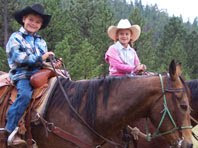 Steamboat Springs, Colorado, is popularly known as "Ski Town, USA" and for good reason. It is an internationally known winter resort destination. However, summer outdoor enthusiasts also rank it as one of the top mountain summer vacation destinations in the world. Located in the northern Colorado Rocky Mountains just west of the Continental Divide, Steamboat Springs has many timeshare rentals available to give your family a fantastic outdoor summer getaway.
For starters, just stand outside your timeshare and breathe in that delicious clear, fresh mountain air. Then look around at the breathtaking vistas of mountain ranges and ranch lands that seem to go on forever.
Now you're ready to jump in to all of the outdoor activities there are to do around Steamboat Springs in the summer.
Hiking and Mountain Biking
Steamboat Springs gives you over 30 miles of scenic mountain trails via a ride on the gondola where you can start your hikes and mountain bike rides along Steamboat Ski Resort. For a more gentle hike or bike ride, or a walk with the kids, there's the Yampa River Trail that connects the lower part of the ski area to downtown.
Water Sports
It's hot everywhere this summer and a great way to cool off is to enjoy water sports at Steamboat Springs that include riverboarding, wakeboarding, wakesurfing, and wakekiting. Steamboat's "Boardom Bound" offers rental packages that can include lessons if you like.

For those of you in search of a more laid-back water activity, try tubing. Float along the Yampa River right through the heart of downtown Steamboat Springs and end up at Charlie's Hole, a local favorite swimming hole.

Horseback Riding
Opportunities to ride your own gentle steed through national forests or across cattle ranches abound. From a ride that begins in the pines high up in the mountains overlooking Steamboat Lake, to the chance to be a cowboy and participate on an actual working cattle ranch, there's a horseback ride to fit every interest.
Live Music and Western Fun
The 2010 Steamboat Free Summer Concert Series runs through August 20th, and showcases bluegrass, jazz and Southern Rock. Each outdoor concert also offers food vendors and special kids activities.

You're in the West, so be sure to take in a rodeo. The 2010 PRCA Pro Rodeo Series takes place in Steamboat every weekend through August 21st.
Check out Steamboat Springs timeshare rentals at such resorts as the Wyndham Vacation Resorts Steamboat Springs and the WorldMark Steamboat Springs Resort, among others. For a family that enjoys outdoor summer activities, Steamboat Springs is made to order.
(Photo provided by sombrero.com for horseback riding in Steamboat Springs)