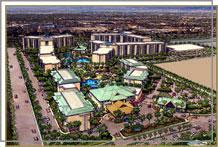 If you own a Las Vegas timeshare at Tahiti Village (see photo), Tahiti, or Club de Soleil, The Arthur Spector Companies are the new owners as of August 31, 2010. This means that they now operate all three resorts and own all the current unsold timeshare units at each resort as well.
If you read our previous article back on June 2009, you know that Consolidated Resorts Filed bankruptcy. Consolidated Resorts was the majority owner of these timeshare resorts, at 75 percent, when Goldman Sachs sponsored their investment in 2007. The Arthur Spector Companies held the additional ownership with a 25 percent interest in the properties.
For the last 30 years, the Arthur Spector companies have been a leading the timeshare industry developing properties in Las Vegas, Hawaii and Orlando. And, Arthur Spector himself is a trustee member of the American Resort Development Association (ARDA).
"We are especially thankful that we were able to assist the trustee to protect the interests of over 100,000 timeshare owners in these difficult times," Arthur Spector said. "All of the timeshare resorts have remained fully operational, the owners have had uninterrupted use of their vacation plans and continue to choose Las Vegas and Hawaii as their vacation destinations. We look forward to rebuilding this vital sector of the Las Vegas economy."
The Spector family plans to invest over $30 MM in the Las Vegas economy through timeshare development and property expansion.