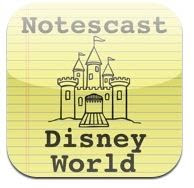 TimeStream Software has announced the latest version of its popular "Walt Disney World" Notescast for the iPhone and iPod touch (and now Android). This app just may be a "must-have" for your next family timeshare rental vacation to Orlando, Florida.
"Walt Disney World is constantly changing and improving, and our newest release stays on top of all those changes." said Mike Westby of TimeStream Software. "It's another improvement to one of the most highly regarded Walt Disney World iPhone apps."
Now with over 300 pages of information, more than 500 colorful photos and rich detailed content, the newly updated Walt Disney World iPhone app is rated as the "go-to" app for Walt Disney World. It is considered a comprehensive vacation planner and in-park guide covering nearly every aspect of the entire resort and all four theme parks, including the Magic Kingdom®, Epcot® Disney's Animal Kingdom®, Disney's Hollywood Studios™ and more.
Available from the iTunes App Store, the new Walt Disney World Notescast contains a wealth of valuable information, including attractions, annual events, dining information, parades, and tickets. It also covers What's New, What's Coming, and Hidden Mickey Tours. Other helpful information includes Toddler Tips, How to Plan your Vacation, and even Photo Tips.
In addition, the app offers information dear to any Disney lover's heart such as Walt Disney World Secrets, Walt Disney World Main Street, U.S.A. Windows, Disneyland Secrets Gold, and Explore the Magic.
Founded in 2001, TimeStream Software produces leading Mobile Marketing and Guidebook apps for the iPhone and iPod touch, as well as the iPod Legacy Devices, and Android powered smartphones.
Armed with every bit of important information and fun trivia that you could ever want to know about Walt Disney World, you'll find your next trip to WDW not only exciting, but a breeze. And budget-friendly, too – Orlando timeshare rentals start at just $39/n at Cypress Pointe Resort II GrandeVillas; or rent a timeshare at the Blue Tree Resort at Buena Vista for just $89/n.
Categorized in: Blue Tree Resort, Cypress Pointe Resort, family travel, Orlando timeshare rentals