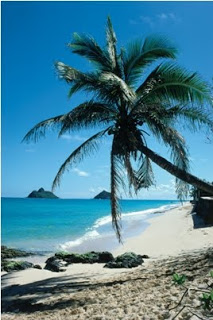 Hawaii has been named the top "Dream Destination" in a recent 2010 Holiday Study conducted by Leisure Trend Group (LTG) of its 1.2 million Most Active Americans Panel.
Hawaii topped Australia and New Zealand for the number one spot when those surveyed were asked where they would take their favorite person on vacation if money were no object. Hawaii captured 9 % of the vote, while Australia and New Zealand each had 5 % of the vote.
"Hawaii has long been a dream destination for many and we're proud to see the demand remains strong among domestic travelers," said John Monahan, president and CEO of the Hawaii Visitors and Convention Bureau. "With six unique islands, a rich culture and history, regional cuisine, and diverse activities covering land, air, and sea, the Hawaiian Islands offer an experience like nowhere else in the world."
For those of you who agree with the findings of LTG's survey, and consider Hawaii a dream destination of your own, the good news is that even if money is an object, this dream can still come true.
Timeshare rentals on several of the most popular Hawaiian islands can be found to match almost any budget. A timeshare rental can give you accommodations that are up to 50% less than hotel rooms; are spacious with separate bedrooms, a living area and a dining area, as well as a full-sized kitchen; and are attached to luxury resorts where the cost of your timeshare rental includes many of the resort's special amenities.
For example, on Oahu you can rent a timeshare at the Imperial Hawiian Vacation Club for just $57/night. Head to Maui for a timeshare rental at Marriott's Maui Ocean Club for only $72/night. On the beautiful Garden Island of Kauai you can find a timeshare rental at the famous Hanalei Bay Resort for $86/night. And on the Big Island, the Kona Coast Resort II has timeshare rentals starting at $71/night.
You almost can't afford not to go to Hawaii with these and other great bargains available on Redweek.com.
Categorized in: Hanalei Bay Resort, hawaii timeshares, Imperial Hawiian Vacation Club, Kona Coast Resort II, Marriott's Maui Ocean Club, timeshare rentals