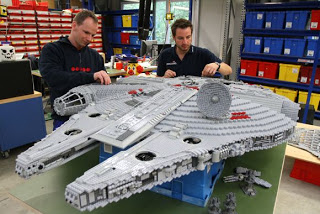 What do Star Wars, Legoland and your Carlsbad timeshare vacation all have in common? Carlsbad, California, is a beautiful coastal town about 35 miles north of San Diego. In addition to having many timeshare rentals available, it is also the home of Legoland California.
Legoland California will be the first Legoland theme park to launch a Star Wars Miniland area. The Star Wars Miniland, which will have models of favorite Star Wars scenes constructed entirely of Legos, is set to open March 31, 2011.
Eight famous Star Wars scenes will be built in a 1:20 scale, using more than 1.5 million Legos. The scenes will encompass the stories told in all six Star Wars movies and the Star Wars: The Clone Wars animated TV series and are arranged chronologically. The models are up to 6 feet tall, and some of them will be built to move or perform other actions when theme park visitors press buttons at the exhibit.
Legoland California also promises life-size models of Chewbacca, R2D2 and Darth Vader for family photo ops.
If this sounds like the perfect family vacation, take a look at these three timeshare resorts close by Legoland park, and make your reservations now:
The Carlsbad Inn Beach Resort has timeshare rentals starting at just $71/n. This lovely resort also offers tours to Ensanada, Mexico, and the J.Paul Getty Museum in Los Angeles.


A reviewer says this: I've stayed here MANY times. It's my favorite resort in the summer. We Love it here!

At the Carlsbad Seapoint Resort you can get a timeshare rental for as low as $86/n. Situated on a majestic bluff, this resort overlooks one of the few undeveloped stretches of beach in San Diego's North County.


A reviewer says this: We love this resort, the morning and sunset view of the ocean is awesome. The resort landscape is perfect and the staff is so willing to make your stay the best. We look forward to our stay each time.

The Grand Pacific Palisades Resort has timeshare rentals that start at only $121/n. This is where you can get views of Carlsbad's magnificent Flower Fields, in bloom from mid-March through early May. You can also get discounts on admission to Legoland, which is just across the street.


A reviewer says this: Great location with charm of Carlsbad and great access to greater San Diego area. Wonderful for families. Would go again in a flash.
Categorized in: Carlsbad Inn Beach Resort, Carlsbad Seapoint Resort, Carlsbad timeshare, Grand Pacific Palisades, Legoland California