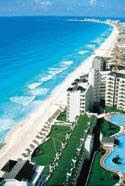 Mexico is one of the most popular destinations for timeshare vacationers from the U.S. Not surprising, with its 6,000 miles of beautiful coastline, and warm winter weather. Perspective Magazine's Susan Knox investigated the Mexico-timeshare vacation connection and following are excerpts from her online article.
"When you look at shared ownership in Mexico, the marketplace is very competitive, therefore we're seeing developers building incredibly high-quality resorts," said Marcos Agostini, vice president for Latin America, resort sales and service, Interval International.
As the economy starts to improve, so does the number of timeshare vactioners to Mexico. Mark Carney, sales and marketing director for Cancun-based Royal Resorts, said "Our occupancy has been higher in the past three months than it was in the previous year."
Royal has six beachfront resorts in Cancun and the Riviera Maya. Another positive indicator for Royal: "Our sales were higher this September than they were the previous September by about 15%." "There is a feeling that we're out of the recession – many Americans who have kept their jobs and hadn't been spending too much money say, okay, you know what, let's go on vacation now. So, there's pent-up demand," Carney adds.
What makes Mexico different, writes Knox, is that in contrast to some other regions around the world, many of the resort developers are Mexican or have strong local ties. California-based Welk Resorts, which opened its first resort in Mexico in December 2009, is an example of a U.S. developer employing nationals. "We've got a leadership team in Mexico that is made up almost entirely of locals," said Welk Resorts President Jon Fredricks.
Despite recent challenges, Mexico is still going strong and Owen Perry, a partner in The Villa Group, a leading privately owned Mexican real estate company with timeshare developments, sees great opportunity for Mexico's future. "I think it's more a confidence thing right now that the recovery is underway – once people trust that it is here to stay, they'll start spending more," said Perry.
Hallmarks of Mexican timeshare ownership include attentive service and a wealth of high-end finishes. Fredricks said that in general, resorts in Mexico, particularly in Los Cabos, are high quality and "benchmark well against the better products in the United States." Welk Resorts has a luxurious 7-acre property perched high on the cliffs of Cabo San Lucas.
Both the east and west coasts of Mexico are booming. All the major tourist markets, including Cancun, Cabo and Puerto Vallarta, are expanding. For example, developers in Puerto Vallarta have recently extended into Riviera Nayarit, which has one of the most beautiful beaches in the area. For a winter getaway you can't beat a vacation to Mexico. Take a look at the many budget-friendly Mexico timeshare rentals available now at luxury resorts in beautiful Mexico.
(Photo shown is Royal Islander, Cancun, Mexico)
Categorized in: Interval International, Mexico timeshare, Royal Resorts, The Villa Group, Welk Resorts