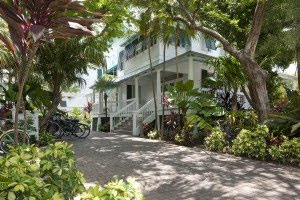 Robb & Stucky Interiors, one of North America's largest home furnishings and interior design companies, is preparing for the total renovation and installation of new furnishings for the Coconut Beach Resort, in Key West, Florida.
The renovation will include all new bathrooms, kitchens, appliances, flooring and total interiors. Robb & Stucky will also provide total design services and custom manufacturing of the majority of the furnishings. Renovation of the five historic "Old Conch" styled buildings will be done in phases, starting in July, 2011, and completed by the end of October.
Robb & Stucky Senior Designer Nancy Woodhouse, IDS, is currently selecting a tropical design embracing an easy living lifestyle for the new furniture packages for the 32 one- and two-bedroom units, overlooking the Atlantic Ocean.
According to George Galvan, General Manager of Coconut Beach Resort, under the management of Spottswood Companies, "Our Board of Directors selected Robb & Stucky due to their sterling reputation and their track record of exceptional renovations to other resorts. We were impressed with their preferred vendor status by the Interval International vacation exchange company to its prestigious Interval Affiliate Advantage program, making their design services available to member resorts. The owners are eagerly looking forward to the total completion of this project."
Overlooking the Atlantic Ocean the Coconut Beach Resort features old island architecture, lush vegetation and walkways flowing onto white verandas. Amenities include a pool, Jacuzzi, and private beach. The resort has been selected as an Interval International Select Resort.
Robb & Stucky's hospitality design professionals provide complete turnkey furnishings for their commercial clients by offering design, product development, space planning, manufacturing, purchasing, delivery, installation and servicing. The company also manufactures what they design frequently creating customized product lines for clients.
(Photo credit – coconutbeachresort.com)
Categorized in: Coconut Beach Resort, Florida timeshares, Interval International, vacation exchange