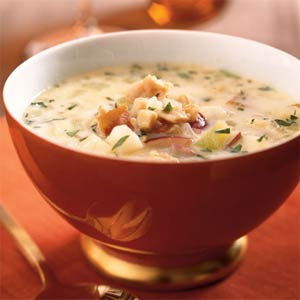 Clam chowder! The very words can warm you to your toes on a cold winter's day. February 25th is "National Clam Chowder Day," and there are some great timeshare rental destinations where you can celebrate.
Before you head out to enjoy your steaming bowl of award-winning clam chowder, here is some fun trivia:
Clam Chowder may have been the first truly American soup, originating in the New England area during the 1800s.
Chowder clams are sometimes referred to as Quahogs.
The term chowder originated from the word 'chaudiere' which is French for the 'large pot' that was used by fishermen to cook fish stews.
Today clam chowder is an established icon of American cooking and is made all over the world.
Now, you must remember that there are two distinct styles of clam chowder: New England Clam Chowder containing cream and no tomatoes (see photo), and Manhattan Clam Chowder made with a tomato broth base. The New England-style vs. Manhattan-style debate has gone on for years.
The "learn anything" web site mahalo.com, tells us this: Some trace the origins of Manhattan clam chowder to the Italian immigrant population that arrived in New York City in the 1890s. It was featured on the menu at famous Delmonico's restaurant in Manhattan, and when imitated by other chefs, was referred to as Manhattan clam chowder. New Englanders, who were very protective of their cream based chowder, were horrified. In fact, in 1939 the Maine state legislature considered a bill to make it a statutory offense to put tomatoes in clam chowder.
Whichever is your fancy, here are some ideas on where to go and how to celebrate. All over the country restaurants will be offering specials and promotions.
Boston
Rent a timeshare at Marriott's Custom House and enjoy award-winning clam chowder at the Neptune Oyster, where the clam chowder is rich and thick, or at the Atlantic Fish Co. where the chowder is served in your choice of a cup or a bread bowl.
New York City
Rent a NYC timeshare and celebrate at Ed's Chowder House, a classy restaurant in the Upper West Side that has a great chowder sampler, or at the AquaGrill in SoHo where their version of Manhattan clam chowder is made with fresh tomatoes.
San Francisco
A San Francisco timeshare rental will allow you to enjoy clam chowder at the Blue Mermaid Chowder House, along with authentic San Francisco sour dough bread, at Fisherman's Wharf. Or, head across the Bay to Berkeley's Spenger's Fresh Fish Grotto. Spenger's will honor National Clam Chowder Day by serving a cup of their award-winning clam chowder for just a $1.21, inspired by the fact that the restaurant is also celebrating its 121st anniversary.
(Photo credit – find.myrecipes.com)
Categorized in: Boston timeshare, marriott's custom house, national clam chowde day, New York City timeshare, San Francisco timeshare