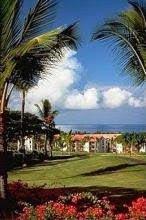 Would you like an exotic tropical vacation for your Spring Break? But no passport? No problem!
While a passport book or a passport card is now required even if you're just crossing the border into Mexico, or flying into the Caribbean, there are some exotic Spring Break destinations that don't require any kind of travel documents at all.
Puerto Rico
Rent a budget-friendly timeshare with a group of your friends, and head to Puerto Rico, St. John Island, St. Croix, and St. Thomas – in the very exotic Caribbean. Since they are all U.S. territories, no passport is required if you are an American citizen.

Complete with everything from fantastic snorkeling to rock climbing and even caves to explore, Puerto Rico has it all. For those of you on your school's golf team you'll be glad to know that Puerto Rico is called the "Golf Capital of the World." And you're probably already aware that San Juan is known for its wild nightlife.

U.S. Virgin Islands
Another U.S. territory in the Caribbean is the U.S. Virgin Islands. Incredible sugary white sand beaches are yours for sunbathing and swimming when you rent a timeshare at a luxury resort here. St. John, St. Croix and St. Thomas are all Caribbean island vacation destinations of legend.

St. Croix, the largest of the islands, has two major towns (Christiansted and Frederiksted), a rain forest, and preserved historic plantation homes. Bustling Charlotte Amalie on St. Thomas is the most popular cruise port in the Caribbean, which means great shopping.

A full two-thirds of St. John is preserved as a tropical national park. Virgin Islands National Park covers over 7,000 acres and ranges from hills to valleys to beaches. Here also is an opportunity to spend some of your Spring Break helping out. Every Tuesday and Thursday volunteers are encouraged to meet with the rangers for such things as trail repair and beach clean-up.

Hawaii
Another tropical Spring Break destination needing no passport is, of course, the exotic south sea islands of Hawaii. While Hawaii is a little further to travel to, what you save on timeshare rentals here can help with your airfare costs. For example, get 7 of your friends together and rent a timeshare at the Kona Coast Resort on the Big Island (see photo) for just $143/night that sleeps eight – that's just $18/night for each of you!
Categorized in: Caribbean timeshares, exotic vacation, hawaii timeshares, Kona Coast Resor, rent a timeshare, spring break travel