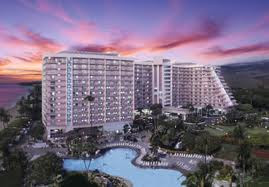 The Kaanapali Beach Club in Lahaina on Maui is one of the resorts on this year's just released "Top 25 Timeshare Rental Resorts," a list compiled by RedWeek members. Offered by Diamond Resorts, this spectacular resort complex is located on the world famous Ka'anapali Beach on Maui's North Shore, where you can sunbathe during the day and are bathed in stunning sunsets every evening.
The landscaping offers tropical garden atriums and relaxing waterfalls where you can enjoy outdoor café seating. Swim in the heated, acre-wide, lagoon-style pool that also boasts a 2-story water slide. Miniature golf and a children's program are also offered.
Other activities include many water sports such as swimming, fishing, scuba diving and snorkeling. With your timeshare kitchen you can take advantage of the resort's barbecue and picnic areas. You can work out at the state-of-the-art fitness center that includes yoga, or indulge yourself at the spa.
This resort is also a prime whale-watching location. The humpback is the star of the annual whale-watching season in Hawaii, which usually begins in December or January and lasts until April.

RedWeek reviewers have this to say about the Kaanapali Beach Club:
"The Ka'anapali Beach Club is my escape from every day life. I love the location and the relaxing atmosphere. The beach is very nice: clean and not busy from foot traffic. This is my primary reason to stay at Ka'anapali Beach Club – for a very relaxing vacation."
"I am an owner and my unit is Very beautiful. I love keeping my balcony doors open during the night and listen to the waves. During the day, I can watch the whales (during whale season) from my balcony – very entertaining. There is a walkway along the beach so I enjoy my morning walks for about 3 miles each day. There is a grocery store within short walking distance and also a farmer's market (which is perfect for the timeshare kitchen)."
"A fantastic location with a great, attentive staff. Extremely family-friendly, but not overrun with kids. The view is amazing, especially during whale season. The nicest resort on Maui that is not "stuffy." Virtually anything you want to do is within close reach from this resort. You Won't be disappointed."
Current RedWeek.com listings for Kaanapali Beach Resort on Maui include 73 timeshare rentals, starting at just $107/night, and 13 resales that start at $1800.
(Photo credit – diamondresorts.com)
Categorized in: Diamond Resorts, Kaanapali Beach Club, maui timeshares, redweek, timeshare rentals, timeshare resales