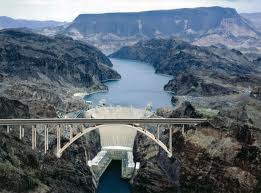 If you're looking to take advantage of Spring Break for a family vacation while the kids are out of school for a week, but want to stay away from the wild party destinations over-populated by college students, think out of the box – Las Vegas.
You'll find many fun activities that are kid-friendly around Las Vegas. Start by renting a budget-friendly timeshare (for example, you can get one for just $49/n at Club de Soliel), then go out and explore these 5 Best Kept Las Vegas Secrets for a fun time for the entire family.
The Old West
Just a few minutes drive from Las Vegas is the Red Rock Canyon National Conservation Area, home to Cowboy Trail Rides. The family-owned ranch has an Old West setting including cowboys, horses and desert terrain complete with cactus, and views worthy of any wide-screen western movie. The kids will feel a real part of the west with a horseback ride along trails that wind through the valley, guided by professional wranglers.
Hoover Dam
One of the 7 Man-Made Wonders of the World, your kids' first sight of this incredible National Historic Landmark is guaranteed to fill them with awe and wonder. Just 30 miles from Las Vegas, over a million visitors a year tour this construction tour-de-force.
Hoover Dam By-pass Bridge
Heavily traveled Hwy 93 used to cross directly over the dam, but since the terrorist attacks of 9-11 a by-pass has been under construction. Opened in 2010, the Mike O'Callaghan-Pat Tillman Memorial Bridge (see photo) is another remarkable experience for your children. Gingerly placed between the rock cliffs that form Black Canyon, and 890 feet above the Colorado River, the bridge offers spectacular views of both Hoover Dam and Lake Mead. Driving over it your children will have crossed on the highest and longest arched concrete bridge in the Western Hemisphere.
Roller Coaster
Another quick 30-mile drive from Las Vegas and you'll find Buffalo Bill's Resort, home of the Desperado Roller Coaster, one of the tallest roller coasters in North America. With a 225-foot drop and a 55-degree descent on the first hill, it's definitely a thrill ride for your teens. Other rides here include the Adventure Log Plume, and The Vault – the first 3-D motion ride in the U.S.
Chocolate Factory
What kid, young or old, doesn't love a chocolate factory? A 30-minute drive to Henderson is where you'll find Ethyl M Chocolates, open daily for free tours. After your tour, and yes – you do get to sample one of their delectable treats – you can wander through the Botanical Cactus Gardens. More than 300 different varieties of cactus plants are exhibited in the gardens that cover three acres. See if the kids can spot the Teddy Bear Chola.
(Thanks to our friends at bridgepros.com for the amazing photo.)
Categorized in: Club de Soliel, family travel, las vegas timeshares, spring break travel