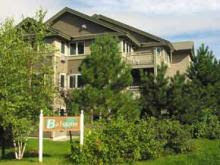 Beginning in June, 2011, Smugglers' Notch Resort in Vermont is planning to transform the way it handles its condominium timeshare business.
In an article posted in the Burlington Free Press, staff writer Dan D'Ambrosio interviewed Scott Tobin, Smugglers' Notch Resort director of vacation ownership, who explained that in the past, Smugglers' Notch sold deeded property where a person would own a specific condo for a specific period of time during the year.
Under a new agreement finalized with Wyndham Vacation Ownership in January, people will now buy points for vacation ownership in the Wyndham network of resorts, including Smugglers' Notch. That allows people to stay wherever they want, for whatever period of time their points are good.
Tobin said that of the 300 timeshare condos at Smugglers' Notch, the equivalent of 40 condos, are going into the Wyndham program.
"The inventory set aside for the program will be registered into a trust," Tobin said. "You'll be buying an interest in that trust and you'll receive points to travel anywhere in the Wyndham exchange network, including obviously, coming back to Smugglers' Notch."
Tobin said the Wyndham connection marks a new era for Smugglers' Notch. "It's a more modernized product that allows the buyer more flexibility in how they use it," he said. "I think the other benefit for Smugglers' is that it allows us to have sort of a national distribution for our sales. In addition to selling this product at Smugglers' Notch, it will be sold at other outlets."
As D'Ambrosio goes on to report, Bill Stritzler was one of the old-school condominium owners at Smugglers' Notch when he was asked to join the board of directors for the homeowners association at the resort more than 30 years ago. He and his wife still own their condominium – along with the rest of Smugglers' Notch, which Stritzler bought in 1996.
Stritzler began investing in capital improvements, especially to sharpen the resort's appeal to summer visitors, by amping up the water parks. "We wanted Smugglers' to be the best place you could go on a vacation with a family, summer or winter," he said.
The efforts paid off. Smugglers' Notch has been named the No. 1 family resort by readers of Ski magazine for the past 12 years, something Stritzler calls a "big deal in our industry, to be at the top and stay at the top for that length of time."
There are many timeshare rentals available at Smugglers' Notch Resort for summer and winter family fun.
To learn more, read "At Smugglers' Notch, Timeshares are a Changin'" by Dan D'Ambrosio in its entirety.
View Smugglers' Notch Resort Timeshares
Categorized in: family travel, Smuggler's Notch timeshare, timeshare news, Wyndham Vacation Ownership