If you're like everyone else in the country, you're thinking "Summer!" After the challenging winter we've all been through, just the thought of splashing about in a swimming pool is enough to lighten the heart, and bring on all sorts of summer vacation planning.
And if you're a savvy vacation planner, you know that just any hotel swimming pool won't cut it. You'll be looking into what swimming pools great timeshare resorts have to offer. Did we say "swimming pools?" Of course we jest – some timeshare resorts have created over-the-top water play that you have to see to believe. With the help of our members we've identified the "Top 3 Timeshare Resort Pools."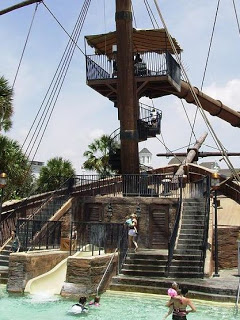 Disney's Beach Club Villas, Lake Buena Vista, FL
Stormalong Bay is a three acre beachside waterpark available to guests at Disney's Beach Club Villas. Yes, that's right – a gigantic 750,000-gallon waterpark on a beach! And get this – its amazing waterslide is accessed only by climbing the mast of a shipwrecked boat! Happily, for those of you looking for a more peaceful way of getting wet there is a Lazy River. And the little ones will have fun at the Guppy Bay kiddie pool. Timeshare rentals here start at $176/night.

Ron Jon Cape Caribe Resort, Cocoa Beach, FL
Basically situated on Cape Canaveral, this water complex will have you dreaming of space travel as you blast 248 feet down the incredible 4-story high waterslide (see photo). Thank goodness this resort also offers tranquil tubing on a lazy river for those of you who never were enamored with being an astronaut. Your youngsters can enjoy water fun just their size at the interactive "Just for Tots" pool. Timeshare rentals here start at just $159/night.

Harborside Resort at Atlantis, Bahamas
The "biggest, baddest water complex around" is found at this resort on Paradise Island in the beautiful Caribbean. You might have second thoughts about heading there yourself when you hear that it was featured as a challenge on the ABC reality show "The Amazing Race." But if you're up for it (and who isn't?) you'll find plenty of ways to test your fortitude in this waterpark that holds 20 Million gallons of water. From high-speed waterslides to a mile-long river complete with wave surges and rapids – it's like no other aquatic experience. For the kids there is a fun kids' water-play fort. Timeshare rentals here start at just $185/n.
(Photo credits: Disney Villas – examiner.com. Ron Jon – ronjonresort.com. Harborside – atlantis.com )
Categorized in: Disney's Beach Club Villas, Harborside Resort at Atlantis, Ron Jon Cape Caribe, top timeshare pools