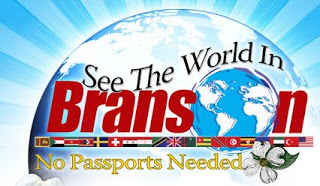 Bluegreen Corporation has announced its resorts are the ideal place for guests attending the See the World in Branson events. Multiple Bluegreen resorts are convenient to this event, occurring this spring from April 1, 2011 to May 31, 2011. Time share rental vacationers to the Branson area will love taking advantage of all everything these resorts have to offer, while also checking out the variety of events going on especially for See the World in Branson.
The See the World in Branson celebration, which is organized by the Branson Area Receptive Association (BARA), is an annual Springtime event that gives vacationers and locals the chance to discover cultures from across the globe. Local theaters, hotels, restaurants, and retail venues will be representing countries from all around the world during this month long International festival.
"We wanted to make this a fun event and allow everyone's creativity to shine," said an event organizer. "Whether you choose to visit Mexico, Israel, Greece or Scotland, we have venues that are decorated accordingly and highlight the culture of that particular country."
By staying at one of the Bluegreen properties for the See the World in Branson international festival this spring, guests will have the chance to visit participating venues throughout the city to take in the culture and traditions of countries from just about every continent, while also taking advantage of the amenities the resorts and the area have to offer.
Bluegreen offers numerous places to stay, close to all the action at See the World in Branson, including The Falls Village Resort in Branson. Right in the Ozark Mountains the family friendly Falls Village resort allows guests to take in the scenery and spend a day outdoors fishing at the nearby Ozark lakes. Time share rentals available here during April and May start at just $71/night.
Big Cedar Wilderness Club in Ridgedale is just a short drive from all the exciting things to do in Branson, while providing vacationers with the chance to explore nature's beauty, including Table Rock Lake and spectacular Dogwood Canyon. Then you can unwind in the lazy river, the pool, and the hot tub. Guests will find endless ways to spend the day, both on land and on the water. Time share rentals available here during April and May start at just $50/night.
Founded in 1966 and headquartered in Boca Raton, FL, Bluegreen Corporation is the leader in providing "Colorful Places to Live and Play" through its vacation ownership resorts. "Our more than 3,500 employees are passionate about delivering extraordinary experiences for our owners, travelers and business partners."
Categorized in: Big Cedar Wilderness Club, Bluegreen Resorts, See the World in Branson, The Falls Village Resort, time share rental