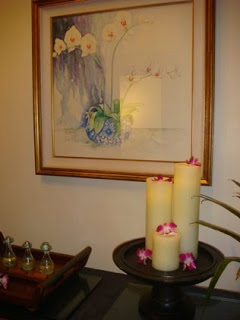 Mom deserves some pampering. And here's a Mother's Day gift idea that will give her just that – send her on a timeshare rental vacation and let her experience a top rated Resort Spa.
In the March RedWeek® newsletter members were asked to write in and vote for their favorite timeshare resort spa. The following three were voted as the best resort spas around – perfect for Mom.
Mandara Spa
At the Hilton Hawaiian Village Beach and Resort Spa, Honolulu, HI, is the largest spa in Waikiki. The Mandara Spa (see photo) offers Balinese-inspired services such as an Elemis Aroma Spa Seaweed Massage, and a Mandara Four Hand Massage where two therapists massage you with a unique blend of five styles.

Mom can also enjoy an exotic Jasmine flower bath or a traditional Hawaiian Lomi Lomi massage. The spa also has services for mothers to be. The resort itself rests on 22 acres of prime Oahu beachscape. Enjoy any of the resort's three swimming pools, whirlpool spa, and Holistica Hawaii Health Center. Rentals start at just $125/night.

The Spa
Pueblo Bonito Sunset Beach Resort and Spa, Cabo San Lucas, Mexico, was voted among Top 5 Hotel Spas in Mexico by Travel + Leisure Reader's Poll, and was also named among the Top 10 Hotel Spas in Mexico, Central and South America by Travel + Leisure.

The Spa offers an extensive menu of European-inspired body treatments and massage therapies including the Shiroabhyanga Massage, and the Temazcal steam bath. Located just 10 minutes from the action and nightlife of Cabo, the resort is set away from the concentration of hotels along the Sea of Cortez, and sprawls over fifty-acres that include an expansive, private beach. Rentals start at $85/night.

Brio Spa
Grand Luxxe Resort, Nuevo Vallarta, Mexico, offers a number of unique spa services that are specifically designed by its highly trained staff, and draw from ancient Mexican and Asian cultures. Mom can try out the red wine or wild orchids body treatments. Or perhaps a body treatment using caviar extract is more her style.

If she's feeling the need for less treatment and more massage Mom can choose from the deep tissue sport massage, or the reflexology massage to reestablish balance. Regardless of how Mom spends her vacation, she will find incomparable luxury at the Grand Luxxe Resort, just 20 minutes north of the Puerto Vallarta airport. Rentals start at $186/night.
Categorized in: Brio Spa, Hilton Hawaiian Village, Mother's Day, Pueblo Bonito Sunset Beach Resort, timeshare rental, top timeshare spas