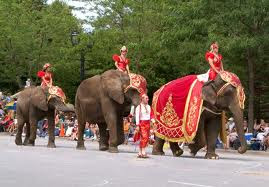 Bluegreen Corporation, a leading provider of "Colorful Places to Live and Play," has announced that its Wisconsin Dells timeshare resort, Christmas Mountain Village, is a prime location for owners to stay while visiting Circus World, May 22-September 5, 2011.
Circus World, located just a short drive from Christmas Mountain Village in Baraboo, WI, comes to life during the summer months. The attraction is held at the original site of the Ringling Brothers Circus Winter Quarters, which is now a National Historic Landmark.
This is a circus lovers chance to enjoy circus performances, magic shows, animals and rides, along with the world's largest circus wagon collection, and circus museum. Kids will even get a chance to be a part of an interactive circus.
"Circus World is always a large draw for our owners," Bluegreen's Scott Rao said. "The big top showcase is a great addition to any vacationer's experience."
You won't want to miss Circus World's "Circus of Chefs" gala, scheduled for June 26, 2011. This annual event features more than 30 exceptional chefs, vintners and brewmasters from the finest restaurants.
On July 23-24, 2011, Circus World presents a wild and wooly reenactment of Buffalo Bill's Wild West Show, along with the exciting Congress of Rough Riders of the World.
Christmas Mountain Village is an 1200-acre, family-friendly resort, highlighted by its 27-hole championship golf course.
Non-golfers can enjoy tennis, swimming in the indoor or outdoor pools, and a huge selection of other activities and entertainment that only the Dells has to offer. There are over 20 indoor water parks in the Wisconsin Dells area, including well-known Mt. Olympus. Noah's Ark, an outdoor water park, also makes a vacation to this exclusive Bluegreen resort a great time all year round.
Timeshare rentals this summer at Christmas Mountain Village start at the astounding budget-friendly price of just $28/night to sleep 6.
(Photo credit – circusworld.wisconsinhistory.org)
Categorized in: Bluegreen Resorts, Christmas Mountain Village, Circus World, Wisconsin timeshare