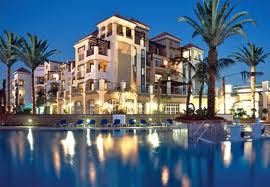 The Costa del Sol region of Spain's Mediterranean coast is splashed with sunshine 345 days a year. If you are looking for a truly luxurious timeshare rental vacation destination, head to the town of Estepona and Marriott's Playa Andaluza beach resort.
As Marriott describes this 5-star resort: "A Spanish coastal flair speaks softly throughout each villa, with handsome era furnishings and the most modern conveniences making your stay one of pure paradise. The Playa Andaluza offers a Mediterranean seaside experience that truly says your ship has come in."
Marriott's Playa Andaluza resort features units with a master suite and oversized soaking tub, full kitchen, separate living & dining areas, and washer and dryer for all the conveniences of home, all with breathtaking views of the Sea or the resort's stunning garden. Here you'll enjoy an array of on-sight resort amenities including fine dining, pristine beaches, and relaxing pools.
Estepona offers daily auctions of fresh-caught fish, and several open-air markets, which makes preparing your own meals in your timeshare kitchen a fun, and affordable, way to try many of the local foods and dishes.
The nearby marinas tucked in along Estepona's 14-mile long beach welcome some of the world's most impressive yachts. Area attractions include "Millionaire's Paradise" – Puerto Banus, an upscale community about 30 minutes drive from Estepona Port with a large number of designer stores, including Versace and Armani; Selwo Safari Park, which houses 2000 animals in semi-wild conditions, and Palacio de Exposiciones y Cngresos de Estepona – home to nearly all of Estepona's cultural events including product presentations, fairs, commercial exhibitions, and concerts.
And the good news is that even with all of this luxury, a stay at Marriott's Playa Andaluza can be quite affordable by renting a timeshare, which start at an unbelievable $43/night.
Reviewers say this:

"Absolutely Perfect in every way. Only wish we could make it home. We are owners there and are so glad to look forward to visiting each year, only trouble is the time passes too fast. Sad to leave every time. Perfect for families or couples of all ages."
"Undoubtedly one of the best resorts in Spain. True to the Marriott tradition. Units are spotless and well equipped with everything you could possibly need while you are on vacation. We cooked many meals because we had all our grandchildren with us. But we also frequented the snack bar and nearby restaurants. Very worthwhile to explore all that Andalusia has to offer. People at the desk were very helpful and polite. We'll go there again. Not enough time to see everything that part of Spain has to offer. So much to see. So little time."
Read more Marriott's Playa Andaluza resort reviews by RedWeek members.
(Photo Credit – marriott.com)

Categorized in: Marriott Playa Andaluza, Mediterranean timeshare rentals, Spain timeshares, timeshare rental