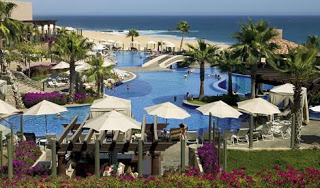 Have you been thinking of spending some of the Christmas holidays at a beachfront timeshare? For true luxury, at true budget prices, you can't beat Pueblo Bonito Sunset Beach Resort & Spa in Cabo San Lucas, Mexico.
The Pueblo Bonito Sunset Beach Resort overlooks the deep blue Pacific Ocean from its location on the western side of the tip of Baja California. Its 50 acres sets it away from the heavy concentration of hotels along the Sea of Cortez. Although you'll find the resort secluded and tranquil, you are still within just a few minutes' drive of exciting downtown Cabo San Lucas, as well as Cabo golf courses, and numerous beaches.
A popular nearby attraction is Cabo Dolphins, which offers a unique opportunity for the entire family to learn about dolphins in a safe and interactive environment. Cabo Dolphins programs including Swimming with Dolphins, Dolphin Encounters, and Trainer for a Day.
Organized tours of all kinds are also available for all types of interest and all budgets. The tours range from whale watching and off-road ATV tours, to snorkeling and diving tours.
Pueblo Bonito Sunset Beach Resort offers timeshares high on a coastal bluff with sweeping ocean views, or right down along the expansive private beach. Each unit is beautifully appointed with marble baths, cedar woodwork, feather-top beds, and regional art. A spacious balcony or patio opens to views of the Pacific Ocean for each unit. High-speed Internet access, satellite TV, climate control, and purified water are standard .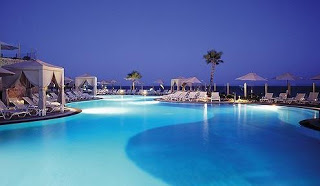 On-sight resort amenities include six swimming pools, including a kiddie pools, tennis courts, an award-winning spa, gourmet restaurants, and, of course, access to that very private beach.
Here is what Reviewers have to say:
We have been owners since this resort first opened and have truly enjoyed every moment here. Excellent family resort with kiddie pools in the 5 pools. All rooms have an ocean view, and maintenance is excellent. Highly recommend this place for a luxury vacation. We give it a five-star rating.
We enjoyed our stay at PBSB immensely. Stayed in a 2 bedroom presidential suite with a family of 6 adults and never felt crowded. Especially enjoyed the Sky pool with its gorgeous views.
This resort is beautiful and the staff is excellent. The rooms are big and comfortable and excellent daily maid service. The pool on top of the mountain has a great view. It was really hard to decide whether to stay high up on the mountain or low down by the ocean. It is a great resort and worthy of your visit.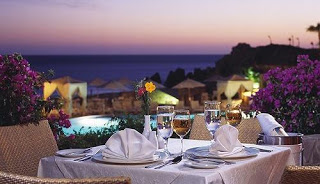 There are 60 reviews of this resort. Read more reviews here.
You can rent a Pueblo Bonito Sunset Beach Resort & Spa timeshare and have a luxury vacation here for only $70/night. Resales start at just $200.
Categorized in: Baja California, Cabo San Lucas Timeshares, Mexico, Pueblo Bonito Sunset Beach Resort, Sea of Cortez, timeshare, timeshare rentals