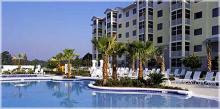 Tom and Mindi Davis of San Diego took time during a recent vacation at their Marriott Vacation Club timeshare in Panama City Beach, Florida to share the reasons they bought and vacation with timeshare.
Their video and blog is the fourth in a series by the American Resort Development Association (ARDA), showcasing the passion of owners about why vacationing with timeshare is simply a better way to vacation.
The Davis' decided to purchase their Marriott Vacation Club timeshare after taking a three-night mini vacation at Marriott's Newport Coast Villas in 2010 with their two children.
"From the minute we arrived, it was so relaxing and beautiful," explains Mindi. "We decided that this would provide a real vacation, giving us the fabulous locations, accommodations and experiences along with the value we couldn't get with hotel vacations."
"We aren't limited to going to the same specific resort each time," remarks Tom. "We've already used our Marriott Vacation Club points for a cruise and intend to travel internationally as well. It gives us the option of doing something completely different each year and it will never get boring!"
With more than 8 million owners, a satisfaction rate of 85 percent and an occupancy rate that has outpaced hotel occupancy by more than 20 percent, it is clear that this segment of the travel industry is faring well. Take the time to find out why.
Visit Vacation Better for more information.
Timeshare and vacation ownership are often used as interchangeable terms. Timeshare may be purchased through deeded property ownership, right-to-use or a points-based program. Owners purchase a villa, usually in one-week increments, within a fixed (same week each year) or "floating" system. Floating time allows the owner to schedule each year's vacation for the desired week within a specified season.
The American Resort Development Association (ARDA) is the Washington D.C.-based professional association representing the vacation ownership and resort development industries. The membership also includes timeshare owner associations (HOAs), resort management companies, and owners through the ARDA Resort Owners Coalition (ARDA-ROC).
Next month, look for happy owners from Bluegreen Resorts who are passionate about their timeshare. All timeshare fans are invited to tell their story to ARDA here.
Categorized in: ARDA, Bluegreen Resorts, Marriott Vacation Club, timeshare, timeshare ownership