Getting cabin fever? Stuck indoors and can't get the exercise you're used to because of the snow, ice, and cold winds of winter? The RedWeek February newsletter offers 3 suggestions for winter timeshare vacations where finding great ways to exercise is easy and fun. Travel to destinations with lots of outdoor activities: skiing in Colorado, hiking in Arizona, or kayaking in Hawaii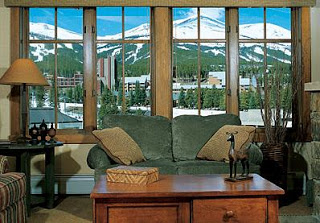 1. Breckenridge, CO. Bite the winter bullet by meeting the snow and cold head-on. Breckenridge has world-class skiing and snowboarding, along with other activities such as ice skating and snowshoeing. All guaranteed to get your blood pumping. And did you know that you'll burn 400 calories an hour in downhill skiing?
Timeshare rentals at the Hyatt Main Street Station (see photo) start at just $75/night, resales begin at $25,000. This resort is centrally located at the base of the slopes on the Blue River, and is within a convenient walking distance to the shopping and dining of Breckenridge's historic Main Street.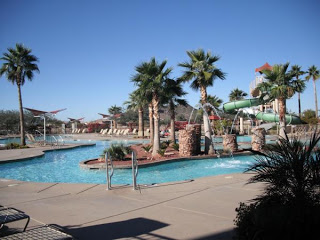 2. Peoria, AZ. There's nothing like the warm desert air to thaw out your bones. In the metro area of Greater Phoenix, Peoria is a gateway to South Mountain Park – the largest municipal park in the U.S. Its 16,000 acres offer 58 miles of trails for cycling, hiking, and even horseback riding.
After all of that exercise you can take a break and watch some other guys run around. Peoria is the spring training home to both the Mariners and the Padres.
The Cibola Vista Resort and Spa (see photo) has timeshare rentals starting at just $71/night, and resales starting at $1000. Staying here also gives you exercise opportunities of water skiing on Lake Pleasant, and golfing to your heart's content.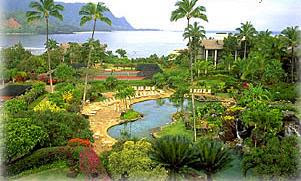 3. Princeville, Kauai. What better place to shake winter's chill than Hawaii? Princeville, on the "Garden Island" of Kauai, is central to some of the best kayaking in the world. Are you up for a 5-hour guided tour of the Hanalei River, Bay and estuary? This kind of kayaking is sure to get those biceps burning.
You can also enjoy outdoor activities such as canoeing and rafting on the Hanalei River.
At the Hanalei Bay Resort (see photo) you can find timeshare rentals starting at $125/night, and resales starting at just $400.
You might be enjoying lots of outdoor activities to keep fit on your timeshare winter vacation, but since traveling and eating go hand-in-hand, and are also tough on the waistline, there are ways to travel and keep this in check at the the same time, too.
A 30 minute walk on the treadmill in your resort fitness center balances out the cheeseburger you had for lunch, and a meal made in your timeshare kitchen is a healthier alternative to eating out.
So use a timeshare vacation to keep in shape this winter, with lots of fun activities on mountain slopes, the warm desert, and even water sports.
Categorized in: Breckenridge Grand Vacations, fitness, Greater Phoenix, Hahalei Bay Resort, Hyatt Main Street Station, Painted Mountain Golf Resort. Cibola Vista Resort, Winter timeshare vacation