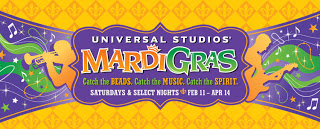 Did you miss Mardi Gras in New Orleans this year? (It was February 21st.) Well, you have another chance to enjoy this iconic spring carnival celebration – take a timeshare rental in Orlando and head to Universal Orlando Resort.
You can enjoy the sights, sounds, and tastes of a New Orleans Mardi Gras as Universal Orlando rolls out its own version of the Big Easy's Mardi Gras celebration – through April 14, 2012.
Music. What's Mardi Gras – and "New Orleans" for that matter – without music? There's music galore, including some of Bourbon Street's most popular bands, such as Rockin' Jake, and Big Al and the Heavyweights, performing authentic blues, Zydeco and more.
You will also be entertained with electrifying concerts from some of the biggest names in music performing live on the Universal Music Plaza stage. The remaining schedule is Cyndi Lauper on Saturday, April 7 and KC and The Sunshine Band on Saturday, April 14.
Food. Stroll through Universal's French Quarter Courtyard for "Nawlins Style Food and Spirits." Here you can sample authentic Cajun food specialties from tasty snacks to mouth-watering desserts to sumptuous main dishes. Try Jambalaya, shrimp gumbo, Andouille sausage, and Beignets both sweet and savory.
Parade. Of course there's a big Mardi Gras parade! It winds through the Universal resort with dozens of colorfully costumed performers, authentic New Orleans bands, dazzling floats, stilt walkers, acrobats, dancers, and yes – you'll be able to grab for beads tossed out by the handfuls!
For a Spring Break trip of memorable proportions, join this authentic and family-friendly version of the famed New Orleans street party. It's Mardi Gras time!
You can find great spring break deals for your vacation accommodations by renting an Orlando timeshare. For example, at the Cypress Pointe Resort II GrandeVillas you can get a timeshare rental for as low as $61/night to sleep four. And for just $121/night you can sleep eight with a timeshare rental at Marriott's Grand Vista. That's only about $15/night per person when you get a group of your friends together for Universal's Mardi Gras – a great spring break destination!
Categorized in: Cypress Pointe Resort II GrandeVillas, Marriott's Grand Vista, spring break, spring break deals, timeshare vacation, Universal Orlando