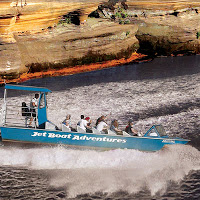 Looking for a summer vacation spot that's made to order for the entire family, but that doesn't cost an arm and a leg? Take a look at Wisconsin Dells – it's a hidden family vacation Gem. If it's not Orlando, it also is not full of expensive theme parks and hotels, either.
The "Dells" of the Wisconsin River were formed by glacial activity geological eons ago. The gorge now has striking natural scenery with sandstone formations along 15 miles of the river. Along with nearby Lake Delton, the area has become Wisconsin's prime resort location. Here all kinds of water sports take center stage for great family vacation fun.
The entire family will enjoy the Dells Army Ducks – a fleet of original WWII amphibious army vehicles that take you on a fascinating land and water tour of Lower Dells Glacier Park.
Your teens will thrill at the 1200-horsepower adrenalin rush from the high-speed Jet Boat Adventures (see top photo). Skilled pilots get the boats up to 40mph as they race through both the Upper Dells and the Lower Dells.
You can also find many different types of water craft for rent, including ski boats, pontoons, wave runners, fishing boats, canoes, and kayaks – something for every member of the family, and every taste and interest.
The main attraction of the Dells is the largest water park in the entire country. Noah's Ark has an amazing 49 water rides, 2 giant pools, 2 endless rivers, and 4 children's water play areas.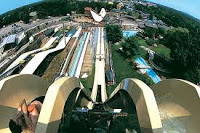 The Black Anaconda is a thrilling "water coaster," and the Time Warp is the world's largest Bowl Ride. The Scorpion's Tail (see photo left) is the first near-vertical looping water slide in the U.S. New just last year in 2012 was Quadizilla, a 4-lane head-first mat racing ride.
For the little ones, you'll find that Tadpole Bay Kiddie Kingdom Water Playground is just the ticket.
One great aspect of spending a family vacation at Wisconsin Dells is the relative affordability of accommodations as compared to many other more famous vacation destinations. You can rent a timeshare at Christmas Mountain Village for as little as $49/night. Wyndham Tamarac Resort timeshare rentals start at just $57/night.
For these amazingly low prices you get condo-like accommodations that can include 2 separate bedrooms and sleep up to six. You'll also get a full-sized kitchen which helps in saving even more of your vacation budget since you won't have to take the family out to eat three times a day.
Wisconsin Dells has it all for a memorable family summer vacation – lots of water fun, and budget-friendly luxury accommodations with Wisconsin Dells timeshare rentals!
Photo Credit (top): jetboatadv.com
Photo Credit (center): noahsarkwaterpark.com
Photo Credit (bottom): dellsweb.com
Categorized in: Christmas Mountain Village, family timeshare vacation, Noah's Ark Waterpark, timeshare vacation, Wisconsin Dells, Wisconsin Dells timeshare rentals, Wyndham Tamarac Resort