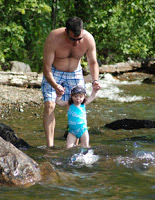 The American Resort Development Association (ARDA) is featuring personal stories from three Festiva Holdiay Group owners during June as part of the industry's effort to share the amenities, experiences, and heartfelt memories of timeshare vacations.
The three families— the Todds, Augers, and Raders— hail from around the country and each has spent their vacation time at a different Festiva resort. From a beach resort in North Myrtle Beach, South Carolina to a lake resort in Maine, to a cozy getaway on Cape Cod, all three families had one thing in common: they felt timeshare made their vacation better.
"It's been fun to see and track the difference in the kids each year," said Richard Todd of Ohio. "They've gone from floating around in the baby pools at the age of one to chasing girls in their teens. Our Festiva home, the Peppertree Ocean Club in Myrtle Beach, is a strong part of our family's history and is a tradition we look forward to all year long.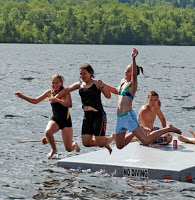 Says Dina Auger: "Our first visit to Festiva's Rangeley Lake Resort in Maine was pure "heaven" to us! It was relaxing, peaceful, and a great time for family bonding. With my husband – who is in the Navy – being deployed quite a bit, this vacation gave us the best "family time" we could ask for.
The staff at Rangeley is very accommodating and friendly; the cabins are well cared for, cozy, and wonderfully decorated! We love Rangeley Lake Resort and our timeshare vacation so much that even when we had to move to the West Coast, we still made time to get to Rangeley for our summer vacation."
Read the rest of the Festiva Fans story.
The Festiva story is the eighth in a monthly series showcasing the passion of timeshare owners. Next month, look for vacation memories from Shell Vacations owners who are passionate about their timeshare. All timeshare fans are invited to tell their story here.
Categorized in: American Resort Development Association, ARDA, Festiva Hospitality Group, Shell Vacations, timeshare, timeshare owners