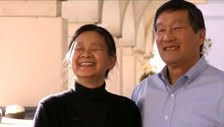 For July the American Resort Development Association (ARDA) is featuring four members from Shell Vacations Club (SVC) in its ongoing Timeshare Fan series. This is part of an industry initiative to showcase real timeshare owners talking about the reasons they love their vacations with timeshare.
Each of the SVC members cite a variety of reasons they've chosen timeshare as their preferred way to vacation—including more space, adventurous locations, and resorts around the globe—they all say that timeshare makes their vacation better.
"I brought three girlfriends with me on a recent getaway and they were in awe," said Shell Vacations Club member Jayne Carney. "They couldn't believe we had two bedrooms and bathrooms, and I said, 'yes, I have this all the time!'"  
The Shell Vacations Club profile is the ninth in a monthly series showcasing the passion of timeshare owners.


With more than 8 million owners, a satisfaction rate of 85 percent, and an occupancy rate that outpaced hotel occupancy by more than 20 percent, it is clear that this segment of the travel industry is faring well. Take the time to find out why. Visit www.VacationBetter.org for more information. 


Next month, look for vacation memories from Starwood Vacation owners who are passionate about their timeshare. All timeshare fans are invited to tell their story here.. 


About Timeshare
Timeshare and vacation ownership are often used as interchangeable terms. Timeshare may be purchased through deeded property ownership, right-to-use, or a points-based program. Owners purchase a villa, usually in one-week increments, within a fixed (same week each year) or "floating" system. Floating time allows the owner to schedule each year's vacation for the desired week within a specified season. 


About ARDA
The American Resort Development Association (ARDA) is the Washington D.C.-based professional association representing the vacation ownership and resort development industries. Established in 1969, ARDA today has almost 1,000 members ranging from privately held firms to publicly traded companies and international corporations with expertise in shared ownership interests in leisure real estate. The membership also includes timeshare owner associations (HOAs), resort management companies, and owners through the ARDA Resort Owners Coalition (ARDA-ROC).
Categorized in: American Resort Development Association, ARDA, Shell Vacation Club, Starwood Vacations, VacationBetter