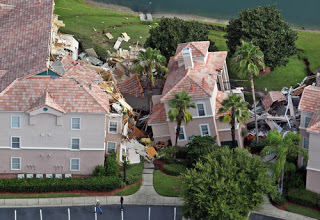 A sinkhole caused a section of the Summer Bay Resort villa, a timeshare resort, to partially collapse early Monday, August 12, 2013.
About 30 percent of the three-story structure collapsed around 3 a.m. Monday
The first sign of trouble came about 10:30 Sunday night. Security guard Richard Shanley had just started his shift when he heard what sounded like shouting from a building.
A guest flagged him down to report that a window had blown out. Shanley reported it to management, and another window popped. The resort's staff decided to evacuate the villa.
Shanley said the building seemed to sink by 10 to 20 inches and banisters began to fall off the building as he ran up and down three floors trying to wake guests.
Guests credited Shanley with saving lives by knocking on doors to wake them. Inside, they heard what sounded like thunder and then the storm of water.
Evacuation took about 10 to 15 minutes, according to staff and witnesses.
The first portions of the building to sink were the walkways and the elevator shaft. Then, as part of the leaning building crumbled quickly into the ground, dust shot up around the site.
Over the next five hours, sections of the building sank into the ground.
Paul Caldwell, the development's president, said the resort gave all affected guests other rooms. Some visitors – many of whom had to leave their wallets, purses and other belongings behind in the quick evacuation – were given cash advances by Summer Bay.
There were no signs before Sunday that a sinkhole was developing, Caldwell said. He said the resort underwent geological testing when it was built about 15 years ago, showing the ground to be stable.
Caldwell said he was waiting on further inspections to determine any damage to the second and third buildings.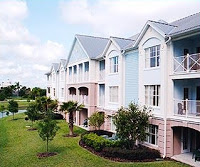 Summer Bay Resort offers timeshare accommodations with fully furnished one- and two- bedroom condominiums that sleep up to six and surround a world class clubhouse.
Jet skiing, water skiing, canoeing, and pontoon boating are all available on the private, spring-fed, 64-acre lake.
Problems with sinkholes are ongoing in Florida. They are caused by Florida's geology – the state sits on limestone, a porous rock that easily dissolves in water, with a layer of clay on top. The clay is thicker in some locations making them even more prone to sinkholes.
The American Red Cross provided assistance at the scene.
Source: The Associated Press.
Photo Credit (top): Orlando Sentinal