Fall is a perfect time to visit the Palm Springs area. Desert temperatures have dropped and are just right, the blue skies accentuate the lovely mountains, and there are so many outdoor activities to enjoy. Here are two resorts that are sure to make your stay even more pleasurable.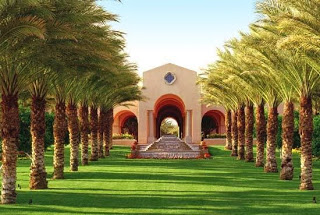 The Mission Hills Villas Resort, located in Rancho Mirage, is a favorite of many. It has a prime location: though it is away from the busier downtown section of Palm Springs, it's just a short drive. You'll still be able to quickly get to the many shopping and dining choices that the downtown area offers.
Just driving into this resort takes your breath away. The Spanish-Moorish architecture, lined by stately date palms gives you the feel that you really have escaped to a desert oasis. Your biggest decision is deciding how many of the numerous activities offered by the resort you can possibly squeeze into the week.
Accommodations
If you come with your family, book the one-bedroom villa. It's 880 sq. ft of spaciousness so no one gets in anyone's way. There's a fully equipped kitchen, dining area, breakfast bar, and living area with sofa bed. Also there's a great entertainment center with flat-screen TV, DVD player, and BoseWave AM/FM radio if you ever stay in the room long enough to enjoy it!
The resort also offers a 1440 sq. ft. lock-off villa. It's fun to book if you are having a friend or family get-together.  Everyone has their own private area, but there's also plenty of space to get together for dining and good times. Current one- to three-bedroom villa rentals at Westin Mission Hills are available for $107 – $429/night.
Activities
Golfing
Golf is one of the premier activities in the Palm Springs area, and one of the reasons to come to the area. There are over 100 courses throughout the area, but right outside the door of the villas are two world-class, 18-hole golf courses.  Have your morning coffee on the villa's patio and check out the competition on the course before heading out for 18 holes. Note: there's also a golf pro shop and lessons are available for a fee.
Swimming
The 16-foot waterslide is one of the main attractions for everyone.  You can pool-hop in the three outdoor pools, and play water volleyball and water basketball (that is, if you can ever drag yourself out of the pools' generously sized whirlpool spas)!
Tennis and Biking
The resort has lighted tennis courts and a tennis program, if you want to brush up on your game. Bicycle rentals are available to cycle around the beautiful property and on the numerous bike paths in the area.
Fitness Center 
Though it's hard to drag yourself away from the gorgeous weather and visual feast of the outdoors, there is a state-of-the-art fitness center on the property.
The Spa at Mission Hills
Treat yourself and slip away to the spa to partake of its desert-inspired treatments to revive body, skin, and spirit. After a rough (ha!) day of golf, revive with several of the soothing treatments at the spa!
What Travelers Say About Westin Mission Hills Villas
Review from RedWeek member susan506:
"We stayed here last Easter week. It was great!!! The units were gorgeous. We stayed in a 2 bed unit. Even though we have younger kids, they loved having their own "living room and kitchen" to watch movies in (we liked not having to listen to Scooby Doo…) The bathroom was huge, with a large Jacuzzi (big enough for my 6'6″ husband), with a separate shower, toilet room, and double sinks, with, Westin robes. I liked the fireplace in the bedroom (and another in main living room) and the BBQ on the deck. Kitchen was also great. Laundry was a breeze with 2 washers and dryers (one set each side), as I don't like driving home with dirty laundry. Beds were super comfortable, with nice black out drapes. Excellent units. My first choice for the Palm Springs area."
See more rentals & reviews for the Westin Mission Hills Villas, or check out our next selection…
Another well-recommended resort is Marriott's Shadow Ridge in Palm Desert. The resort is surrounded by Southern California's most magnificent mountain ranges, lush golf courses, and sparkling lakes.  All provide a spectacular view from the villa balconies while watching the sun set into a warm desert evening.
The resort is a perfect place for a golf vacation with friends. The two-bedroom 1250 sq. ft. villa provides ample space and privacy for two couples. Each villa has a spacious living and dining area, fully-equipped kitchen, and baths with oversized soaking tubs. One-bedroom villas and studio units are also available, if you don't require as much space. Current rentals at Marriott's Shadow Ridge are available from $63 – $321/night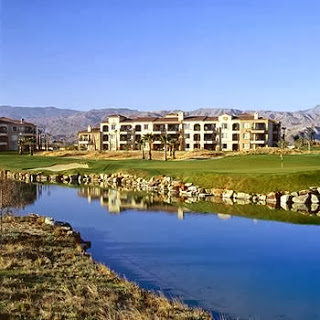 Activities
Golfing
Not only can you play at Shadow Ridge's 18-hole, Nick Faldo-designed golf course, you can try out your swings and drives at several of the nearby courses:  Desert Springs Resort – 3.8. miles, Rancho Las Palmas – 4 miles, Desert Willow Golf Resort – 5 miles, and the absolutely fabulous, La Quinta Resort and Club – 12.3 miles. All have high ratings from the golf enthusiasts!
Tennis
There are 19 tennis courts on the property to ensure that guests will always have a court available. It's nice to take a break from golf and play on the well-maintained courts.
Swimming
What would Palm Springs be with out swimming pools? The more luxurious, the better! The pools at this resort are no exception. The delightful Chuckwalla Pool featuring an exciting water slide and water guns will make you feel like a kid again. But, it's also nice to be an adult so you can enjoy cocktails from the Chuckwalla Pool Bar as you sun and swim!
More Fun
For even more fun, the facility has two half-court basketball courts, a volleyball court, and fitness center with steam room and sauna. Biking, hiking, and horseback riding are all nearby, and great ways to see and experience the area.
Spa
Just next door to Shadow Ridge at the Marriott Desert Springs Resort is the Spa at Desert Springs. The 38,000 square-foot spa does not disappoint. It offers an extensive treatment menu that actually incorporates ancient healing methods and exotic treatments made from locally grown citrus and dates.
What Travelers Say About Marriott's Shadow Ridge
Review from RedWeek member terria24:
"We have been going to the Marriott Shadow Ridge as a family for over 10 years. We love it. Great location, more newer than some of the other resorts in Palm Desert, great kids center, nice pools, pool bar w/food, great Faldo course and restaurant. Plus, all the fitness you need in their fitness center. We own 3 weeks at the Marriott in Shadow Ridge and love when we get to use them."
See more rentals & reviews for Marriott's Shadow Ridge, or check out all resorts in the Palm Springs area, and be sure to let us know your favorites below!