Traveling during this holiday season will look different than years before. If you do choose to travel, here's what to expect and how to prepare for the smoothest trip possible.

Lower your expectations.
The first step in having a wonderful holiday, is to change your expectations of it—especially this unprecedented year of COVID-19. If you lower your expectations of the trip and preemptively accept that you may encounter travel restrictions or unexpected issues, then you will be less likely to be taken off guard by these occurrences when they arise.
Travel with immediate family only, or those you live with.
This is not the year to venture for a large family reunion with extended aunts and uncles from across the nation. Instead, opt for an intimate family vacation with your household members to prevent potential exposure to COVID.
Research your destination beforehand.
Before committing to a destination, make sure you do your research! It's no fun to cancel a reservation because you learn that the pandemic restrictions are undesirable in your destination of choice.

Opt for destinations where you can spend time outdoors as much as possible.
Book a mountain resort and spend the days skiing, or opt for a beach rental and get everyone out and about under the sun!
Book a longer vacation and pencil in some quarantine time.
With so many individuals transitioning to a work-from-home schedule with their employers and schools, families may have more flexibility to vacation longer. This can enable you to visit some destinations that may have strict guidelines around self-quarantine. Check out some of our favorite remote-work friendly rentals!
Avoid peak travel days and times.
Instead of traveling the week of Christmas, talk to your family about celebrating a different week this year. If that is not an option, then at least avoid traveling on Saturdays, Sundays, and Mondays. Before you book, read this year's stats about the best and worst holiday travel days. Choose flights with undesirable departure and landing times to avoid crowds; early morning and late night times are best. 

Leave for the airport with at least an hour or two…or three to spare.
You should account for traffic delays, check-in wait times, TSA lines, and COVID screenings when mapping out your decampment time from home to the airport. Even more, you should probably tack on at least one additional hour to that estimate. Your motto should be: "What can go wrong at the airport, will go wrong at the airport".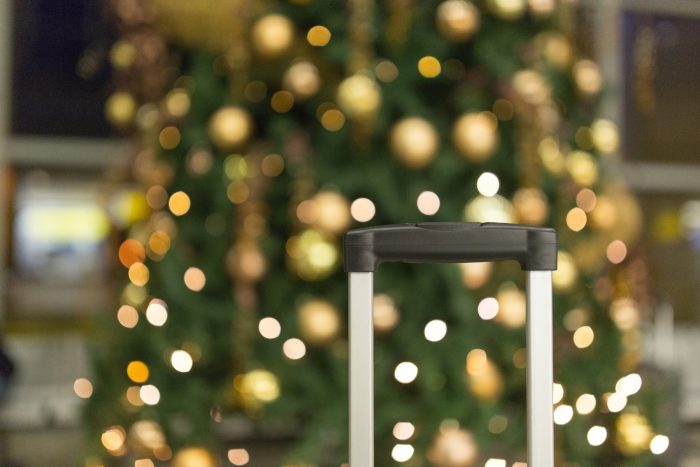 Pack as light as possible to avoid baggage issues and delays.
If at all possible, aim to only bring carry-on luggage. Not only will it save your sanity traveling through the hectic airport, but it will prevent your luggage from being lost in the holiday hustle and bustle. Furthermore, make sure you set aside all luggage to be properly cleaned when you return home after your trip.

Be prepared for things to go wrong.
In this day and age, we all have become well adept at preparing for the worst. Bring snacks and games for your kids in the event you have a flight delay or a screening hiccup and need to kill a few hours in waiting. Lower your expectations of a perfect trip, so that if something goes wrong you are able to keep a cool head and stay cheery for your family's sake.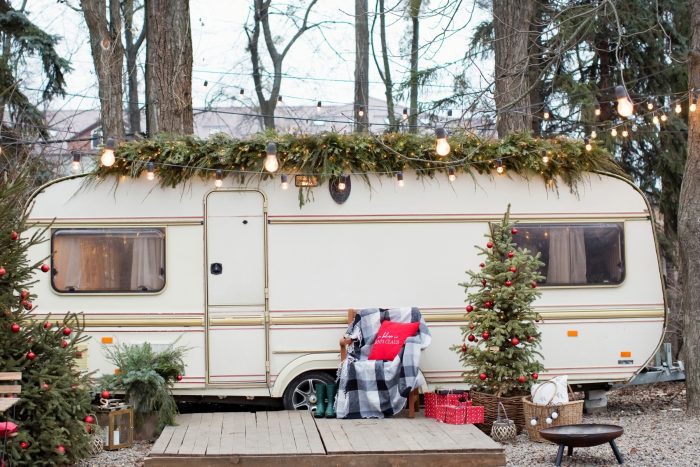 Make it a road trip and avoid flying altogether.
The best travel tip of all is to avoid flying completely and just drive instead. In many cases of contiguous state travel, the time saved flying isn't more than a couple hours. Consider taking the family for a wintry road trip instead of subjecting yourselves to the mayhem of the airport during the holidays. Check out some of our favorite road-trip destinations for inspiration!

Pack an emergency kit in your car.
Even if the weather sites predict blue skies, do not leave home without an emergency kit in your car. This is probably the most important part of a winter road trip. Pack food, blankets, boots, gloves, snow bibs, and hand-warmers for the whole family. This year, is would also be wise to pack extra hand sanitizer, face masks, and medicine in case anyone comes down with a cold. Above all, don't forget those tire chains.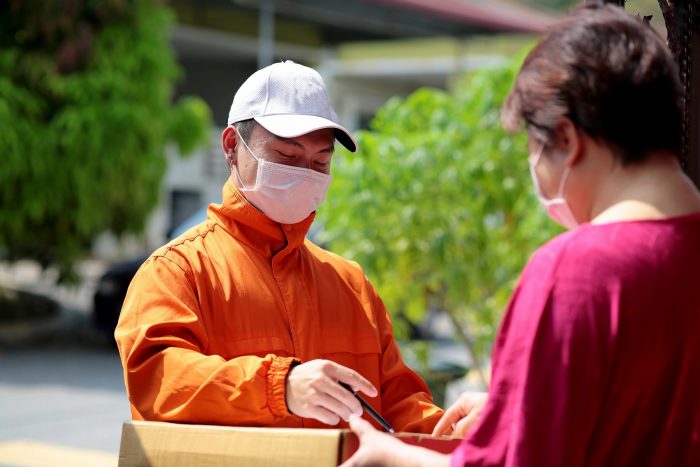 Be kind to everyone, but especially service staff.
If something goes wrong at any step in your trip, remember to be kind and smile. Patience and kindness are your best bet at getting help. This has been a tough year for us all, and a little sympathy goes a long way.
Wear a mask, wash your hands, and practice social distancing.
Last but not least, please wear a facial covering, wash your hands often, and practice social distancing as much as you can, if you decide to travel.
Happy Holidays from all of us here at RedWeek! Treasure your time with family, and travel safely throughout the season.