Updated March 11
Aruba has been open to travelers since last summer, though COVID restrictions still present tourists with some hoops to jump through. If you are ready to return to the area, here are some things you need to know before heading out.
Travel Requirements
All visitors (including children) are required to complete the online Embarkation/Disembarkation card process in order to be permitted entry to Aruba. The process requires a personal health assessment, a negative COVID-19 test for all adults and children over the age of 14, requisite insurance coverage, and consent to Aruba government mandates.
Residents of all 50 states now have the option to take a PCR based Molecular COVID-19 test upon arrival at the airport in Aruba as well as the option to provide a certified negative test result prior to travel to Aruba.
Aruba visitors insurance premiums are a flat rate of $30 per person for persons aged 15 years and older, and a flat rate of $10 for persons aged 0-14. Before traveling to the island, check out Aruba's mandatory entry requirements and travel restrictions.
Travelers returning to the U.S. after visiting Aruba will also be required to provide proof of a negative COVID-19 test taken within 3 days of their return flight, so they must take a test at an Aruba testing facility before heading home. View testing sites here to plan ahead for your return trip home.
Canada has temporarily suspended travel to the Caribbean due to COVID-19 until further notice, so unfortunately Canadian travelers will have to postpone their Aruba travel plans for now. Aruba has also implemented some restrictions for visitors from other countries (such as Brazil), so visitors should check Aruba.com's page for updates (even though they are open to receiving Canadian tourists, Canada is not allowing residents to go there).
Health and Safety Measures
Aruba has increased health and safety protocols for residents and tourists, including face mask requirements in indoor public spaces and confined outdoor spaces where social distancing is not possible.
As of February 5, a curfew on the island was put into effect between midnight and 5am. Beaches are off-limits to guests between 7pm and 5am, and all establishments (except hotels) are required to close by 11pm. Bars and nightclubs are closed indefinitely and all restaurant parties must be limited to four seated indoors or six seated outdoors.
Since restaurant dining is limited, we recommend booking a rental with a full kitchen. Two great options are Marriott's Aruba Surf Club and Marriott's Aruba Ocean Club.
Aruba Health App
Visitors are encouraged to download the Aruba Health App, which was developed to keep residents and travelers informed of the latest COVID health updates and provide wider access to resources for COVID-19 testing.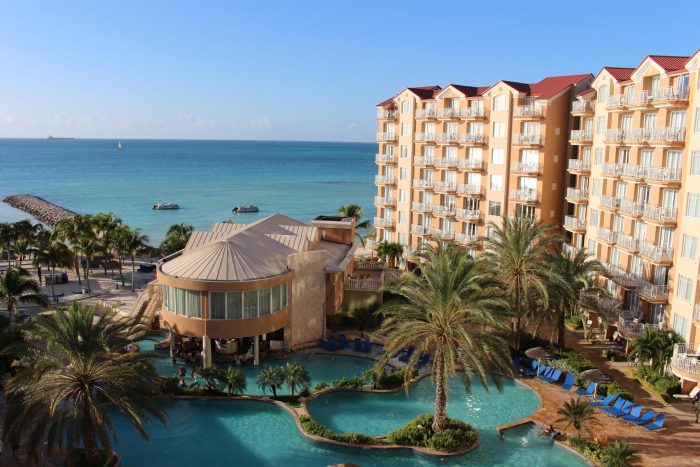 The Best Aruba Rentals
If you're ready to resume travel to the island, use RedWeek.com to find spacious Aruba rentals with full amenities, resort-level cleaning standards, and unbeatable owner-direct pricing.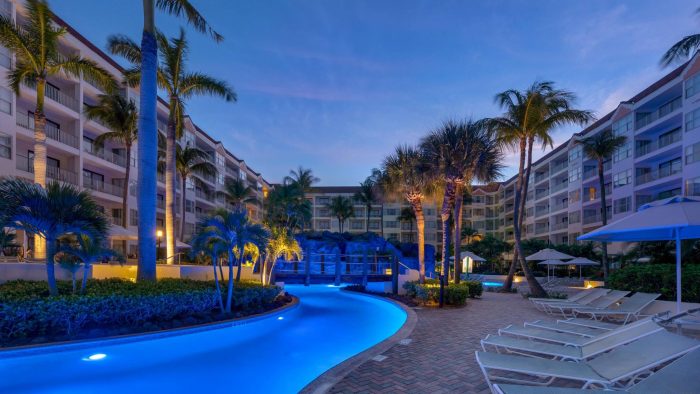 Resort Safety Measures
Marriott's Aruba Surf Club and Aruba Ocean Club both come with Marriott's new Next Level of Clean standard of service, social distancing measures throughout the facilities, and contactless experiences. Shared spaces are open with limited occupancies, including the pools, fitness centers, and restaurants.
The Divi Aruba Phoenix Beach Resort has implemented rigorous health and safety protocols including an enhanced CLEAN CHECK program, touchless checkin/checkout, and social distancing in public spaces. Resort restaurants, bars, and fitness centers are all open with limited capacity and increased sanitization measures. The Divi also offers on-site COVID testing to streamline your departure process, with both PCR and Antigen test options available.
Most resorts have safety and health protocols implemented in the area, but it is a good idea to call your resort ahead of time and inquire about specific restrictions.
Have more questions? Check out the RedWeek timeshare rental FAQ or get in touch.