The timeshare rental world is filled with misinformation. RedWeek, the largest online timeshare marketplace, is here to help you separate fact from fiction. We've built our reputation on providing a safe, effective marketplace with no hype and zero sales pressure. Below, we'll look at some of the biggest timeshare myths and let you know what's real … and what's not.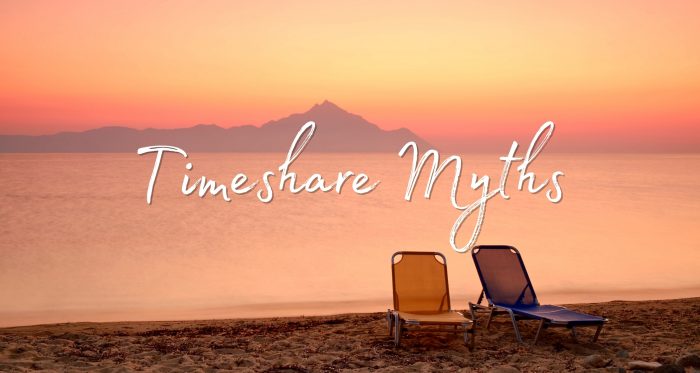 Myth #1: Timeshare rentals are only cheaper because there are strings attached      
You might peruse various timeshare rental offerings and decide to do a little comparison shopping. Are you and your wallet better off booking a vacation directly through a resort or via a service like Expedia? Are timeshare rentals only cheaper because there are requirements, like tours? Definitely not. At RedWeek, you can take advantage of owner-direct prices, which are often much lower than a resort's standard pricing. Many individual timeshare owners aren't looking to get rich from their properties; they just want to break even. So, owner-direct prices are competitively priced to attract budget-minded renters. Sometimes those prices can seem too good to be true — but trust us, you're not dreaming. Find out more about why timeshare rentals are cheaper. 
Myth #2: Timeshares are for the older generation
Admit it: When you hear the word "timeshare" you probably picture a, shall we say, more silver-haired demographic. In the past, that image would've been pretty accurate. But in the past decade or so, Gen-X and Gen-Y (AKA millennials) have been coming around to the timeshare rental way of traveling. And that goes for both timeshare rentals and timeshare ownership. On the rental side of things, younger generations have already embraced the flexibility and convenience of the vacation rental / Airbnb lifestyle. Now, they're seeing that timeshares offer similar benefits and much more, in luxurious resort-style settings. When it comes to timeshare ownership amongst the younger set, the numbers just keep going up. A recent study by ARDA International Foundation (AIF) found that 30 percent of the new timeshare owner base were under the age of 35. Is timeshare ownership a good idea? That depends — see Myth #4. 
Myth #3: Timeshare rentals and resorts are outdated and/or generic
Another myth that — like most myths — has some basis in reality. In previous years, timeshare resort suites stuck to a basic template, with several bedrooms, spacious kitchens, and large shared spaces. Those still exist, of course, but they're far from the only game in town. Now, timeshares are getting sleeker and more stylish, with updated décor and furnishings. Today's traveler is looking for more authentic and unique experiences on their vacations — and the timeshare rental world is adjusting to provide those. 
Myth #4: Timeshare ownership is a bad idea 
It happens to a lot of people who dip their toes into the timeshare world. You have a great time at a specific resort, and you start thinking: "I'd like to own my own property here." But is timeshare ownership a bad idea? It depends on what your expectations are. If you're looking to make money from a timeshare property, you're likely out of luck. But as a way to maximize personal vacation time, it makes sense for many people. Owning your own timeshare makes planning a trip easy; you always know exactly where you're going and what to expect. You also save money on food, thanks to the ability to prepare your own meals during a trip. That can be just the beginning of serious savings, too. Buying in the aftermarket makes the economics of owning a week much more affordable. You get the same unit, week, resort, and amenities for pennies on the dollar. You may not get an extra housekeeping or the ability to turn it into frequent flyer miles, but you can save up to $10 – $20K. 
Ultimately, it's up to you whether timeshare ownership is the right or wrong move for your future. But RedWeek is committed to serving as an unbiased resource. Have questions? Leave them in the comments and we'll do our best to give you an answer. 
Ready to book your next vacation? Browse timeshare rentals. 
Already a timeshare owner? Learn more about how RedWeek can help you.