In celebration of the 50th Anniversary of Walt Disney World – RedWeek has acquired nearly 600 Disney Vacation Club Vacation rentals. These DVC vacation rentals are vacations booked by DVC owners, and all are offered at unbelievable discounts compared to retail (rack) rates!
As you begin planning your Disney vacation to join the celebration festivities, you will notice that many of the units are studios…but don't let that dismay you! Even if you're planning a trip with your kids, there are a number of reasons why you won't want to pass on these studios right away.
DVC studio rentals are not your typical studio room. They are typically equipped with a small kitchenette, a large bathroom, and often a balcony. Many of these studios are even designed with creative elements like pullout couches so they can sleep up to 6 people!
We have compiled 20 tips to getting the most out of your Disney studio rental, read on to find out more: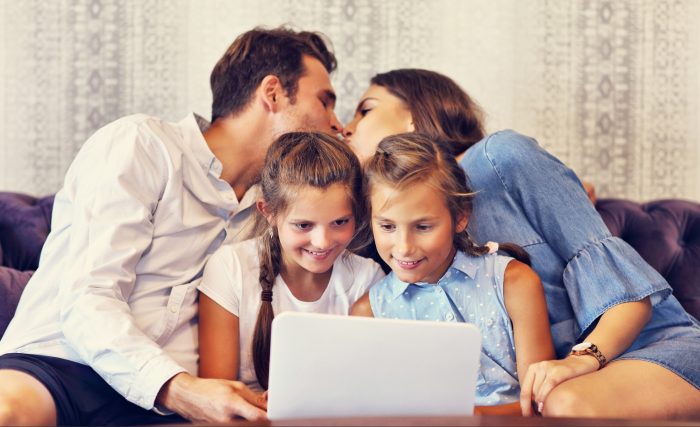 Here are our tips to getting the most out of your Disney Vacation Club studio rental:
DVC studio rentals have unique floor plans and some are even designed to accommodate sleeping up to 6 people! Make sure you read about the room's layout before making your decision.
Studio units are much cheaper, and therefore a great way to save money on your trip.
If you're planning to see the parks with the family during your stay, you likely won't be spending most of your time in the room anyway…so why not get cozy with the kids in the evening and splurge a bit more during the day with those extra funds you saved on the hotel!
Because studios usually offer the best prices and have the most availability, consider doing a split stay and try two different Disney resorts to get the most out of your trip!
If you have a family of 5, you can still be comfortable in a studio at Villas at the Grand Floridian, Beach Club Villas, Boardwalk Villas, Boulder Ridge Villas and the Polynesian Villas (see below for sample floorplan layouts).
If space is still a concern, consider the largest studios DVC resorts have to offer, which are Polynesian Villas (447 square feet), Old Key West (390 square feet), and Villas at the Grand Floridian (374 square feet).
When traveling with multiple children, designate a space for each kid to store their necessities and souvenirs right when you get checked in. It will prevent lost treasures and keep the room much neater.
Laundry is usually free when staying as a guest of a DVC member, so don't worry about dirty clothes piling up. Pack a pop-up hamper to stow dirty clothes. It will keep the room much tidier and free of clutter. It will also make it much easier to take laundry to the laundry room.
Make use of the store at the resort to pick up cereal, milk, bread, lunchmeat, peanut butter, fruit, drinks, waffles and pancakes so you can have an easy breakfast in the mornings. The fridge in studios isn't the biggest, but it will easily house milk, juice water and libations.
If someone prefers a healthier breakfast in a studio, pack an inexpensive microwave egg poacher and bacon cooker. The stores sell bacon & eggs too!
Studios do have toasters, so you can toast bagels, waffles and toaster pastries for breakfast.
For quick studio lunches & dinners, you can buy toaster bags to make toasted sandwiches, also microwave meals like Mac & cheese are also always a hit.
Don't forget microwave popcorn for a bedtime snack while watching Disney movies on TV.
Schedule bathroom times each morning. It will prevent arguments and chaos before a busy day. 
Stop by a quick service restaurant at the resort to ask for extra plates and plastic utensils to keep in the room. The room isn't stocked well with these items and can really help when eating breakfast & snacks.
After a long day in the parks, some quiet time for the parent's is always a good thing. Be sure to make use of the balcony or patio after the kids go to sleep.
Want to make the studio (or any room) more exciting? Disney Florist will decorate guests' rooms for a fee.
Feel like a cookout? All of the DVC resorts have grills and the stores at the resorts sell charcoal, hot dogs, buns, etc.
For couples who want to make their stay special, pick up some splits of champagne and orange juice for a morning mimosa on the balcony.
Studios can get a little cramped, so be sure to go explore your resort and get some fresh air!
See below for a few examples of what you can typically expect from a DVC studio layout: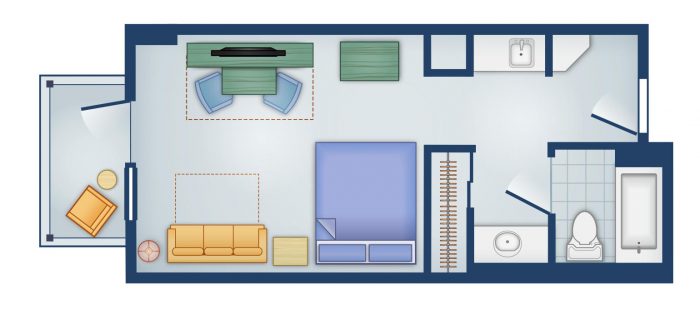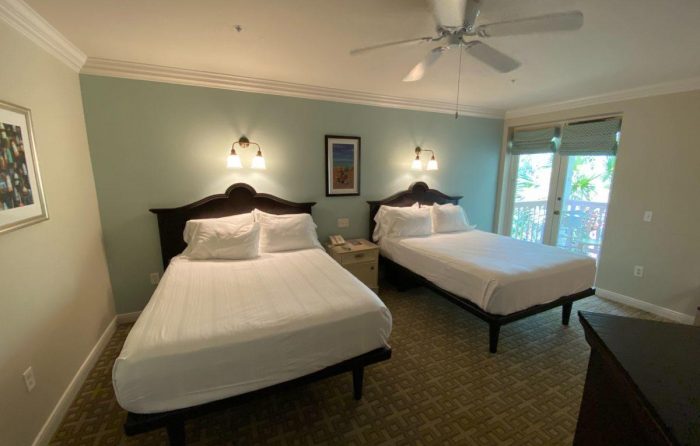 Browse more Disney resorts and start planning your magical stay today!