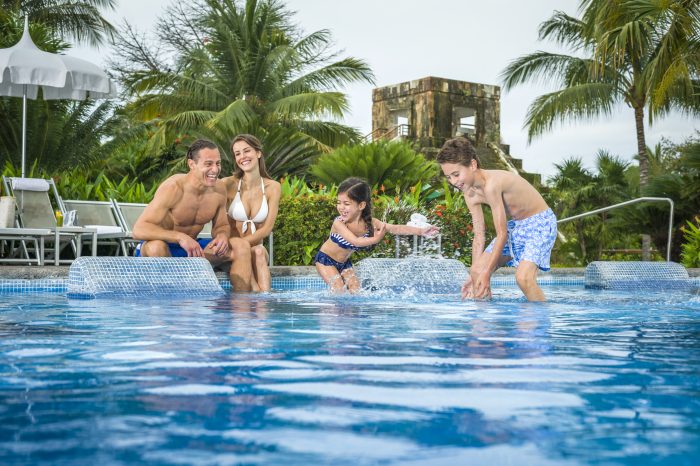 If you're the type of traveler who can't book a vacation without checking out your pool options first, this one is for you. Mexico's resort pools are the epitome of luxury, combining breathtaking scenery, exquisite design and impeccable service. Whether you seek a vibrant, family friendly atmosphere or a tranquil, secluded retreat, Mexico's best resort pools await.
Grand Mayan at Vidanta Nuevo Vallarta
Nestled along the stunning shores of the Pacific Ocean, this luxury resort boasts a series of magnificent pools that cater to every type of guest. From sparkling infinity pools that blend seamlessly with the horizon to lively swim-up bars where guests can indulge in refreshing drinks, the pool area at Grand Mayan Vidanta Nuevo Vallarta is a haven of relaxation and enjoyment. The meticulously designed pools feature cascading waterfalls, Jacuzzi rings, lush landscaping, and ample lounging areas with comfortable sunbeds and cabanas. Looking for something a little more exciting? Try the Aqua Park's wave pool or take a ride on the thrilling Mayan Pyramid water slide.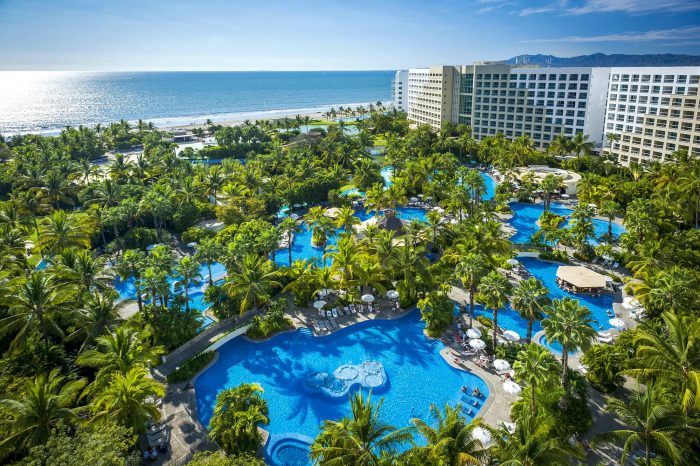 Check out RedWeek's Nuevo Vallarta travel guide. 
The Royal Sands
Surrounded by lush tropical gardens and attended by attentive staff, the pools at The Royal Sands in Cancun offer an unforgettable experience of tranquility and tropical bliss. There are two lively all-ages pools, providing plenty of room to splash around in with the kids. But if you want a mellower pool experience, the Royal Sands' elegant infinity pool delivers in every way. Here, you'll find luxurious loungers and cabanas, providing a perfect oasis to soak up the sun, unwind with a refreshing cocktail, or simply bask in the breathtaking views. If that sounds too relaxing, The Royal Sands also boasts a lap pool for those who want to keep up their fitness regimen while on vacation.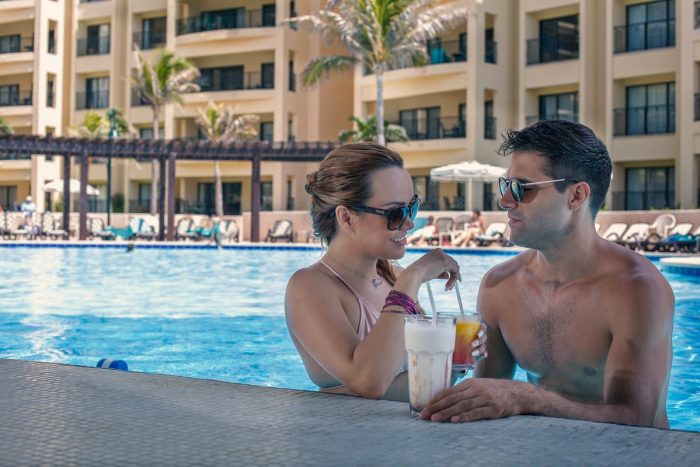 Check out RedWeek's Cancun travel guide. 
Ventus Ha at Marina El Cid Spa & Beach Resort
A recent addition to the El Cid resort campus, Ventus Ha opened in 2021, bringing a sophisticated vacation option to Puerto Morelos. That sophistication reaches its apex — literally — at Rüf, a spectacular adults-only rooftop pool bar. We'd forgive you if you ended up spending most of your trip at Rüf. It's that seductive, with a chic atmosphere, panoramic views and creative cocktails. Kick back on a Balinese-style bed, stargaze using one of the bar's many telescopes, enjoy the chill beats of a live DJ, indulge in a rubdown in the massage area … is this paradise?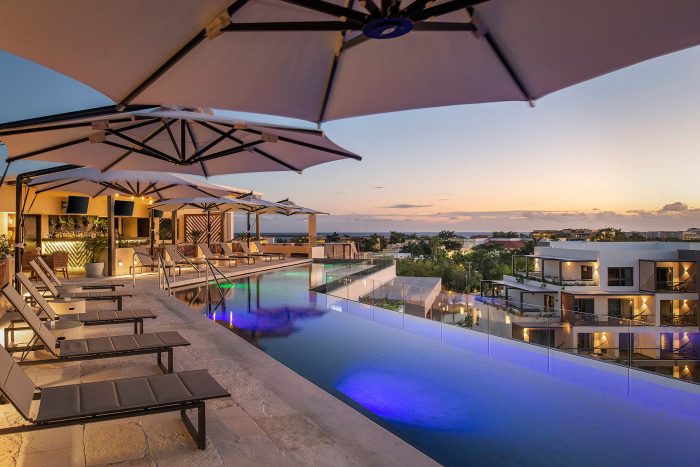 Mayan Palace Vidanta Riviera Maya
Tucked away in groves of lush jungle, the Mayan Palace at Vidanta Riviera Maya in Playa del Carmen offers a respite from busy life. Here, families splash in sparkling oceanside pools that stretch to the horizon. Located by Jade Boutique, this sprawling pool area features a myriad of small, interconnected pools, dotted with vibrant Mayan sculptures, as well as other water features. Enjoy a bite from Balché during the day, or Frida's Cantina at night, or savor a delicious cocktail from the pool bar. For those looking to skip the sun while lounging poolside, you can rent a palapa to shade you during the day.
Check out RedWeek's Playa del Carmen travel guide. 
Grand Solmar Land's End Resort
The pool at Grand Solmar Land's End Resort in Cabo San Lucas is a breathtaking sight to behold. Its expansive size and eye-catching design seamlessly blend with the surrounding landscape, providing a serene and luxurious ambiance for guests. With crystal-clear turquoise waters that practically beg you to take a refreshing dip, the pool offers a welcome escape from the warm Cabo sun. Whether you choose to lounge on the comfortable sunbeds, sip a tropical cocktail at the swim-up bar or indulge in a relaxing soak in one of the poolside Jacuzzis, every moment spent by the pool is an opportunity for pure relaxation and rejuvenation.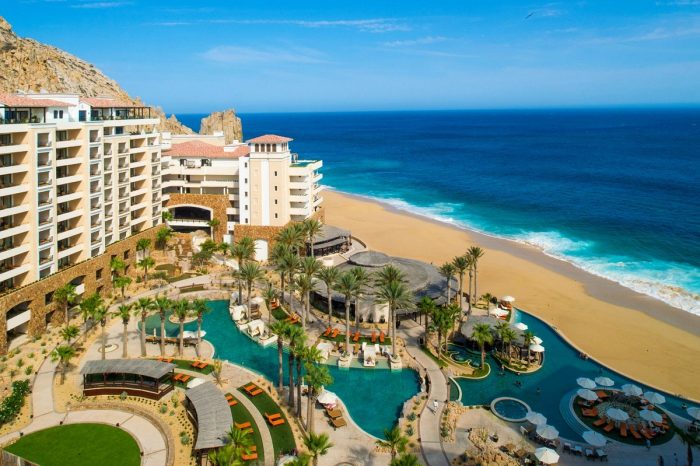 Check out RedWeek's Cabo San Lucas travel guide. 
Start planning your Mexican vacation with RedWeek now.