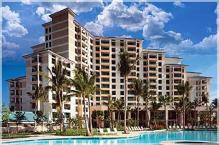 Take a look at the Oahu timeshares resort page for Marriott's Ko Olina Beach Club on RedWeek.com. You'll see that almost every reviewer gives this outstanding resort 5 stars! When you begin your vacation planning this year, put this resort at the top of your list. Rent a timeshare here starting as low as $100/night and take your family on vacation to a true Hawaiian luxury resort.
Located on Oahu's western shore, the Ko Olina is just a 30 minute drive into downtown Honolulu but feels a world away. It's easy to enjoy the great restaurants of Honolulu, the fun shopping along Waikiki, and even the awesome surfing on Oahu's North Shore, and then forget the hustle and bustle as you relax in a quiet oasis away from the crowds. A bonus is that when the tropical rains hit Honolulu and Waikiki Beach often the guests of the Ko Olina are not affected since Oahu's western shore is the dry side of the island.
Lavishly landscaped, the Marriott's Ko Olina Beach Club welcomes you with splashing waterfalls and shimmering fountains as soon as you drive through the covered entrance. Not only does the resort sit on beach-front property along the sparkling Pacific, but it's also surrounded by the blue waters of seven lagoons complete with swaying palm trees and colorful flowers. The beach in front of the Ko Olina is beautiful and wide with pathways for walking and jogging. And don't miss the resort's fun Monday evening complimentary manager's party.
Although parking is available at the resort, you might want to opt for Oahu's efficient and easy to use public transportation system, and Marriott also provides shuttle service to the Marriott Golf Club, and the Marriott Hotel where outdoor seating at the Azul restaurant puts you next to a pool where you can watch small sharks and graceful rays. The close town of Kapolei, just ten minutes away, offers more restaurants and shopping, including grocery stores such as Costco and Safeway for easy stocking of your timeshare kitchen.
When planning your vacation this year imagine renting a timeshare at the Marriott Ko Olina Beach Club, watching breathtaking sunsets from a secluded beach, and not even having to leave the resort to enjoy Hawaii's famous shaved ice treat!