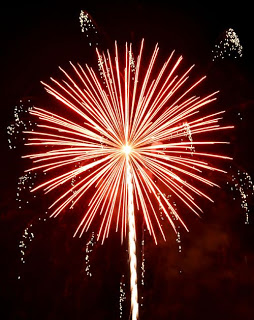 Can't wait for Summer? Enjoy the planning of your timeshare rental Fourth of July vacation now.
The first holiday of summer, Independence Day, draws millions of people across the U.S. outdoors for picnics, parties, and fireworks. If you're looking for a real July 4 spectacle this year – and are itchin' for a road trip as well – check out some of these great timeshare resorts that are just steps from awe-inspiring fireworks displays.
From our May RedWeek.com Newsletter, here are three Fourth of July vacation destinations and timeshare rental resorts, along with some info on the July Fourth fireworks displays you'll be able to catch at each one:
Beach Quarters Resort, Virginia Beach, VA, Virginia Beach, VA, is set in a breathtaking location, with prime fireworks viewing from your oceanfront balcony. Rentals start at $99/night. (Own for only $6,000.)

The Virginia Beach web site offers this exciting description of their "Rockets in Flight" Fourth of July fireworks: "Let the patriotic pyrotechnics begin with a Virginia Beach fireworks spectacular. From the rockets' red glare to the star-spangled sky, our oceanfront makes an awe-inspiring backdrop for summer fireworks – all season long. The celebration begins with Independence Day's Stars and Stripes Explosion."

Christmas Mountain Village Wisconsin Dells, WI is a Bluegreen Corporation resort and they describe your Fourth of July vacation this way: "You've heard of Christmas in July. This year, make it a plan! Christmas Mountain Village in beautiful Wisconsin Dells is the perfect place to celebrate the Fourth, and a multitude of extravaganzas are planned for this year's holiday, including our own onsite carnival. Multiple fireworks shows are scheduled in the area, and the only task of Christmas Mountain Village owners and guests is choosing where, exactly, to be wowed."

As the Wisconsin Dells web site says, there will be a "flurry of fireworks" around the area, including many of the resorts, as well as a huge one at the Wisconsin Dells Municipal Pool where onsite refreshments will be served as you watch over 1,300 fireworks celebrate America's birthday.

Christmas Mountain Village timeshare rentals start at just $63/night, and you can own here for only $475.

Carolina Grande Myrtle Beach, SC, is located right on the Grand Strand, home to the best July Fourth celebrations in Myrtle Beach. Rentals start at $100/night. Bluegreen and RCI points resales available.

Myrtle Beach does the Fourth of July celebration up in grand style, starting with a festive boat parade at Murrells Inlet. This is followed by "the celebration with one of the biggest fireworks displays of the summer" over the Murrells Inlet Marshwalk, and is accompanied by exciting choreographed Patriotic music.
(Virginia Beach fireworks photo credit – insiderspassport.com)
Categorized in: Beach Quarters Resort, Bluegreen Resorts, Carolina Grande, Christmas Mountain Village, Fourth of July, Summer travel, timeshare rental