By Jeff Weir
In a stunning setback for Diamond Resorts, timeshare owners at Tahoe Beach and Ski Club defiantly denied Diamond Resort International's bid to place a senior vice president on the HOA's board of directors. Instead, they reelected two board members who constitute a 3-2 majority opposed to Diamond's unannounced plans for the resort.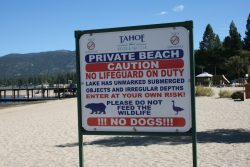 Frank Goeckel's defeat was a first on many fronts. He is Diamond's liaison and board relations consultant to 31 resorts and currently serves on four timeshare HOAs, including the nearby Tahoe Seasons resort. All he wanted to do, he told owners repeatedly, was serve on the board to protect Diamond's investment in Tahoe Beach and Ski Club and create a richer vacation experience for all owners. Diamond's investment is substantial: it has aggressively bought Tahoe Beach and Ski Club units at tax sales during the past two years and now owns 25% of all Tahoe Beach and Ski Club timeshares. To many outsiders, Diamond's ownership (including $1 million in maintenance fees this year alone), is viewed as a very positive key to the legacy resort's long-term financial survival.
But the 200 owners who assembled on the Tahoe Beach and Ski Club beach for the HOA election on Sept. 26 did not embrace Goeckel's pitch, or his sometimes combative personality. He finished a distant third out of four candidates, collecting 1,719 votes, including 1,604 he cast for himself as Diamond's proxy holder. In their rejection of Goeckel, Tahoe Beach and Ski Club owners voted to maintain their resort's independence in the face of a company with very acquisitive designs on older but valuable resorts across the country.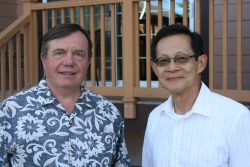 Jake Bercu and Alfred Fong after their reelection
Bad as the results were personally for Goeckel, the HOA vote was a triumphant victory for President Alfred Fong and Treasurer Jake Bercu, who were reelected to new terms on the strength of their campaign pitch that Goeckel, and co-challenger Cathy Ryan were bad for the board and bad for the resort. In effect, they portrayed Goeckel as a Trojan Horse whose ascension to the board would enable Diamond, over time, to take over the resort at the expense of longtime deeded week owners. Citing Diamond's and Goeckel's record at other Diamond resorts, Bercu-and-Fong supporters at the HOA meeting predicted that Diamond would increase maintenance fees, open up the resort's coveted private beach to non-owners, and pressure longtime owners to convert their deeded weeks into Diamond's point-based travel club.
Many owners also distrust Diamond's motives because of Diamond's decision, last February, to sue the current board for its refusal to recognize Diamond's purchase of 241.5 vacation units last December. As one irate owner pointed out at the HOA meeting, "Did you know you're being sued by this man? He [Goeckel] wants your vote!"
The candidate's forum at the HOA meeting was rancorous. The candidates aggressively challenged each other while members of the audience heckled Goeckel and complained about Diamond's corporate behavior at other resorts. Bercu and Fong beseeched owners to protect their vacation experiences and preserve the spirit of the resort by rejecting Goeckel and Ryan. Goeckel vowed that he would never open up Tahoe Beach and Ski Club's private beach to Diamond owners at the Lake Tahoe Vacation Resort, located right next door, but with no beach of its own. Ryan, a bit player in the drama, said she just wanted to work with all owners and improve the financial stability of the 140-unit resort.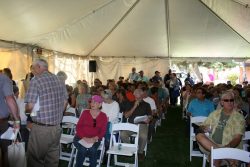 200 Tahoe Beach and Ski Club owners gather for the vote
Goeckel answered every accusatory charge (and boos) from owners with as much reasonableness as he could muster. But he was also obviously upset at the hostility he absorbed from Tahoe Beach and Ski Club owners at the candidates' forum. He even told a story about how his wife and children, at home in Florida, got hateful and threatening phone calls from owners at The Point in Poipu, a Diamond resort on Kauai that went through an owner class-action lawsuit several years ago (over a $6,000 one-time assessment to repair ocean-water damages). The case was eventually settled — with Goeckel calling the experience one of his proudest achievements as a board member at Poipu — but still left a bad aftertaste among many Poipu owners. To this day, they complain loudly, and bitterly, on online forums (including this one on RedWeek.com) about their alleged mistreatment from Diamond.
Unlike Poipu, the HOA election at Tahoe Beach and Ski Club ended peacefully, with all candidates retreating to the best wishes of their supporters while owners milled around, excited and nervous, about whatever history they were about to make. An hour later, they found out.
With two seats open on the board, the referendum on Diamond's investment in Tahoe Beach and Ski Club was:
Bercu, 2,217 votes
Fong, 2,207.5
Goeckel, 1,719 (including Diamond's 1,604)
Ryan, 1,624.5 (including Diamond's 1,604)
Saturday Night Pizza Party Puts the Vote into Perspective
The night before the election, Goeckel probably knew what was coming. He had dinner, by himself, at the end of a long bar at the Pizza Hut located right next door to the Tahoe Beach and Ski Club. His only visitor was a reporter who stopped by to say hello and engage in small talk. Goeckel was not in the mood for pleasantries. In response to several questions, he just stared back, stone-faced, like he was looking through a mirror.
While Goeckel munched on his lonely pepperoni, 50 or so Tahoe Beach and Ski Club owners held a pre-election party in a dining room just 20 yards away. With college football game TVs blaring overhead, they didn't know Goeckel was in the same room, and they didn't care. They were celebrating an owner-movement in its infancy: people taking charge of their timeshare destinies by getting involved in mundane things like HOA elections. For these folks, getting involved felt good — very, very good.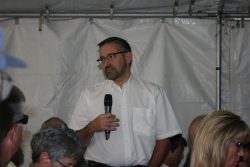 Diamond Resorts' Goeckel takes the mic
Compared to the newby activist owners, Goeckel's been deeply involved in timeshare issues for 25 years. He has more board member experience than all of the Tahoe Beach and Ski Club members, combined. He also serves on the board for the American Resort Development Association and its owner-affiliate, ARDA's Resort Owners Coalition. But Goeckel, despite a resume that spans six pages, hit a rocky speedbump at Tahoe Beach and Ski Club. Owners, including other board members, routinely refer to him as a 'bully.' Goeckel claims to be baffled by all the hostility he's received from owners at Tahoe Beach and Ski Club, but he knows the truth of the situation. Bottom line: the owners that know him don't like him or his company.
The enmity is understandable. At an owners' meeting on the beach a month ago, Goeckel matter-of-factly told owners that if he did not get elected to the board this year, he'd get elected NEXT year. Diamond, he said, "is not going anywhere."
Owner Activism in Tahoe Starts a Movement?
The showdown on the beach at Lake Tahoe beach illustrates, in one isolated case, what can happen when legacy resort owners communicate and get organized to defend their perceived interests. It also opens a window into how major companies view the future of timeshare — where big companies gobble up units at smaller resorts in high-value destinations like Lake Tahoe. It seems to be a natural part of the ongoing consolidation of the industry where big companies survive and smaller independent timeshares teeter on the brink of insolvency as owners age-out and go delinquent on their maintenance fees.
Across the country, a similar owners' rebellion sparked a civil and criminal investigation of The Manhattan Club timeshare resort by New York Attorney General Eric Schneiderman. As part of that investigation, Schneiderman obtained a court order in 2014 that terminated all sales at the club and froze the company's assets.
But those kinds of moments are few and far between. Most timeshare owners are concerned about their reservations and vacations, not the people who run their resorts.
In the aftermath of the vote, as the calm waters of Lake Tahoe lapped quietly at Tahoe Beach and Ski Club's private beach, Bercu and Fong were proudly optimistic about the challenges that still must be addressed — Diamond's lawsuit, dealing with delinquencies and launching a new resale program to put foreclosed units back into circulation — and creating revenues.
They also have to prepare for another election, next September, when two other board members, Steve Williams and Shannon Krutz, who back Goeckel, stand for reelection. The board has already asked Krutz to resign because of her role in approving Diamond's purchase of Tahoe Beach and Ski Club timeshares last December (without board approval), but she has not responded. Other owners, full of energy from their victory in reelecting Fong and Bercu, are openly debating whether to launch a recall election, immediately, to unseat Krutz. So the situation remains fluid, despite the election.
Bercu says that Goeckel, communicating with other board members through back channels, has already agreed to engineer Krutz's resignation — in return for his getting an appointment to serve out her term.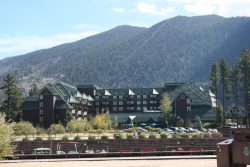 Diamond's Lake Tahoe Vacation Resort behind TBSC
It's a risky proposition, since owners have already spoken about their position about Goeckel.
"Diamond is still trying to buy our inventory, so we don't want Goeckel on the board," Bercu said. Krutz declined to comment.
Goeckel also sidestepped comment after the HOA vote. In an email, he said, "I am unable to comment on issues relating to the pending litigation at Tahoe Beach & Ski Club in South Lake Tahoe, California.". Like all litigation, Diamond's lawsuit against Tahoe Beach and Ski Club will have a life of its own. The next status conference before a local judge is tentatively set for mid-November. That judge has already opined that Diamond will lose the case because Krutz had no authority to authorize the sale on behalf of the board. The Tahoe Beach and Ski Club board is actively fighting the case and, in a recent maneuver, filed a countersuit against Diamond and VRI, the club's former management company, over the December sale.
So what will happen next? "The owners want more blood," Bercu said. "They are feeling empowered. We want to keep them engaged but channel the energy into something positive."