The family vacation is a time-honored tradition. However, it can sometimes be hard to tell which destination is right for specific age groups. Below, RedWeek breaks down several spots by age groups, giving you inspiration for trips with kids throughout their childhood.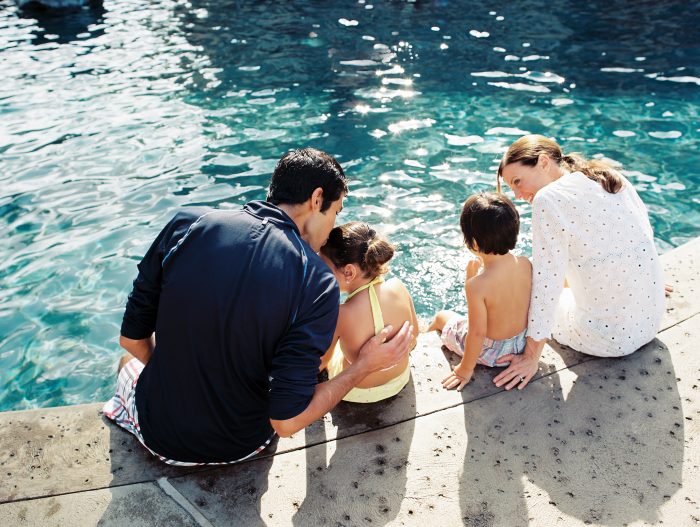 St. John, Caribbean
Why It's Great For Infants & Toddlers: Travel can actually be fairly easy with a kid aged 0-1. They just need the same things that they get at home — and they can't get very far on their own. So, take advantage of this slightly less hectic time in your parenting life and plan a relaxing tropical vacation in the Caribbean. Part of the U.S. Virgin Islands (no passport required), St. John is a great option, with plenty of sun and sand, plus luxurious resort amenities. 
St. John Travel Tip: Sun Dog Café in Mongoose Junction is perfect for dining with young kids. It boasts a laid-back, family-friendly atmosphere and an open-air patio that will let you enjoy a little St. John sunshine along with your meal. 
Check out RedWeek's St. John travel guide. 
Kid-Friendly St. John Resort: Situated upon 47 beautiful acres, Westin's Bay Vista Villas feature comfortable one- or two-bedroom villas with plenty of space for your family, each one equipped with a dazzling bay view.
Orlando, Florida
Why It's Great For Elementary School-Aged Kids: Disney World in Orlando is fun for everyone — but the Magic Kingdom and all of its associated theme parks are especially magical for younger kids. From Big Thunder Mountain Railroad to Buzz Lightyear's Space Ranger Spin, the sprawling attraction offers unbeatable excitement throughout its 25,000 acres, where you'll meet Mickey and all his pals. To call a trip to Disney World "unforgettable" is an understatement. 
Orlando Travel Tip: There's more to Orlando than Disney! There are other equally amazing theme parks, like Universal Orlando, LEGOLAND® Florida and SeaWorld® Orlando, as well as a host of outdoor adventures. 
Check out RedWeek's guide to the best of Orlando — beyond Disney. 
Kid-Friendly Orlando Resort: Marriott's Grande Vista resort is a secluded lakeside property that feels worlds away from the hustle and bustle of Orlando. Features like childcare, outdoor swimming pools, MAZE indoor playground, kitchens, and a grocery store make this the perfect timeshare resort for families. 
Explore RedWeek's exclusive inventory of discounted Disney Club resorts.
Myrtle Beach, South Carolina
Why It's Great For Middle School-Aged Kids: Active middle school-aged kids will love Myrtle Beach, located on the scenic South Carolina coast. The destination's six beaches offer the chance to try out fun watersports like paddle boarding and kayaking, while the miles and miles of bike trails make it easy to explore on two wheels. Middle schoolers will also love the opportunity to get up-close-and-personal with Myrtle Beach's population of dolphins on a guided cruise. 
Myrtle Beach Travel Tip: Myrtle Beach is an ideal place for the whole family to discover South Carolina's incredible cuisine, which encompasses everything from classic soul food to freshly caught seafood. 
Check out RedWeek's Myrtle Beach travel guide. 
Kid-Friendly Myrtle Beach Resort: A favorite among families due to the beautiful scenery and expansive pools, Marriott's OceanWatch Villas are located in the exclusive Grande Dunes master-planned community, with a stretch of pristine beach always just steps away. 
Park City, Utah
Why It's Great For High School-Aged Kids: The "Greatest Snow on Earth" in Park City is guaranteed to thrill teenagers, whether they're seasoned shredders or new to the slopes. With 7,300 acres, 330 trails, 43 lifts and six terrain parks, there's snowy excitement for all experience levels. Even off the mountain, there's plenty of fun to be had in Park City, from escape rooms to outlet shopping. 
Park City Travel Tip: The destination doesn't close down when ski season is over — far from it! Park City makes for an excellent spring or summer getaway with teenagers, with such experiences as ziplining, hiking trails, alpine slides and more replacing snowsports. 
Check out RedWeek's Park City travel guide. 
Kid-Friendly Park City Resort: Situated at the base the mountain, Marriott's Mountainside at Park City is a ski-in/ski-out resort that offers year-round relaxation and recreational options in a world-class resort setting. Besides the ideal location, these spacious two-bedroom, two-bath villas each feature a whirlpool tub, a fully equipped kitchen, and other pleasing amenities.
Maui, Hawaii
Why It's Great For College-Aged (Or Older) Kids: Reconnect with your family in paradise. Known as the "Valley Isle," a trip to Maui is irresistible, even for young adults with packed schedules. Here, you'll enjoy luxurious oceanfront resorts, spectacular beaches, and authentic Hawaiian culture. For a family road trip like no other, take a drive on the Road To Hana, a 52-mile journey along Maui's northeastern shore. 
Maui Travel Tip: From selling millions of records in the 1970s to becoming an unlikely TikTok sensation in recent years, nothing brings a family together like Fleetwood Mac. Enjoy a night out at Fleetwood's On Front Street, an acclaimed Maui restaurant founded by the band's drummer Mick Fleetwood. 
Check out RedWeek's Maui travel guide. 
Kid-Friendly Maui Resort: Marriott's Maui Ocean Club is one of the most popular timeshare resorts – and for good reason! This spectacular 16-acre Kaanapali Beachfront resort occupies one of the most coveted beachfront locales in Lahaina.