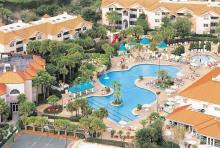 First it was the "Staycation," and now it's the "Nearcation." Many families are still feeling the financial pinch of the recession, and at the same time definitely deserve, and even need, a summer family vacation. So let's explore how renting a timeshare and taking a Nearcation can give you the best of all worlds.
Gas prices are holding steady, so calculate how much your budget could handle in a round trip. You want to make it a reasonable one-way drive time so you won't need to stop at a motel overnight.
Then take out a map, find where you live, then draw a circle out the number of miles you can drive one way. Now, check out timeshare rentals at the resorts that fall within your designated radius. You'll find many that can fall nicely within your vacation budget.
If you happen to live in a large city, or near theme parks, or even near beaches or mountains that are great tourist draws for other vacationers, no fair staying at home and running out now and then to participate in an activity. Webster's Dictionary defines vacation as: a period spent away from home in travel and recreation for rest and relaxation. That's a Vacation! And that is why, even if you won't be traveling very far from home, renting a timeshare in a beautiful resort, is how to have a truly great Nearcation.
For example, if you live in the Orlando area, rent a timeshare at the Sheraton Vistana Resort (see photo). In drive time it's only a hop and a skip, but in vacation time it's a world away from home. With timeshare rentals starting at just $64/night this 135-acre play fest is also easy on the budget.
Do you live in Texas? It's a big state, for sure, and your Nearcation radius may not cover much of its area, but there are lots of great timeshares for rent. Try the Silverleaf's Hill Country Resort in Canyon Lake, or the Inverness By The Sea in Galveston.
New England is jam-packed with great resorts with budget timeshare rentals, including Smuggler's Notch Resort in Vermont, Southcape Resort and Club on Cape Cod, and Wyndham Inn on the Harbor in Newport, Rhode Island.
For those of you in the mid-west and western states, there's plenty of budget timeshares for you to rent, too. Check out the many resorts throughout Colorado and Nevada; you'll find that Tennessee has them in Nashville and Gatlinburg; and in Wisconsin the Christmas Mountain Village resort in Wisconsin Dells starts timeshare rentals at just $50/night.
A creative way to have your vacation and your budget, too – your Nearcation this summer is as unlimited as your imagination. Happy Vacationing!