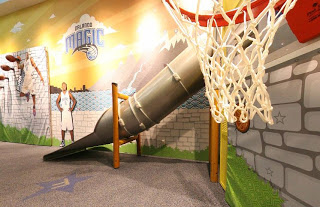 The Orlando Magic and Wyndham Vacation Ownership signed a new, multi-year partnership deal in which Wyndham Vacation Club becomes the presenting sponsor for the children's play area in the new Amway Center, home of the NBA team.
The play area will be called STUFF's Magic Castle presented by Club Wyndham, based on the Orlando Magic's "STUFF the Magic Dragon" mascot. The Magic Castle is a play area for kids from 2-12. Children can have their pictures taken here with STUFF pregame, or you can visit during the game so the kids can climb through STUFF's castle, play a game of STUFF, Dunk Like Dwight, shoot baskets, and test their memory skills by playing the match game (see photo).
Wyndham Vacation Ownership, a member of the Wyndham Worldwide family of companies, is the world's largest vacation ownership business, and is headquartered in Orlando.
The Orlando Magic was founded in 1989 as an expansion franchise and has had such notable NBA stars as Shaquille O'Neal, Penny Hardaway, and Grant Hill. The franchise has been in the playoffs for more than half of its existence (13 playoff appearances in 22 years).
The Amway Center is the first new NBA arena to earn a gold certification from the non-profit U.S. Green Building Council, which encourages environmentally friendly practices during construction and once a building opens. Points are awarded from a lengthy checklist of green features.
Overall, there are 16 Wyndham Vacation Club resort located throughout Florida, including Wyndham Bonnet Creek Resort in Lake Buena Vista where timeshare rentals start at $71/night; Star Island Resort in Kissimmee where timeshare rentals begin at just $85/night; and the Wyndham Ocean Walk Resort in Daytona Beach that starts timeshare rentals at $80/night.
(Photo credit – orlandosentinel.com)
Categorized in: timeshare rentals, Wyndham Bonnet Creek Resort, Wyndham Ocean Walk Resort, Wyndham Vacation Club, Wyndham Vacation Ownership