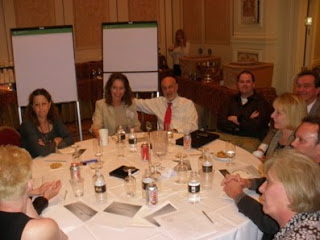 The American Resort Development Association (ARDA) Annual Convention and Exposition is currently underway in Orlando, FL. Being held March 27-31, 2011, this is the premier gathering for the vacation ownership industry.
The convention attracts over 3,000 participants from more than 20 countries, and offers educational, networking, and social opportunities. The ARDA Exhibit Hall provides a focal point and is the largest show specifically geared toward the resort development industry.
This year's Signature Sponsors of the convention include RCI, Interval International, Wyndham Vacation Ownership, Hilton Grand Vacations, Starwood Vacation Ownership, and Diamond Resorts International.
Among the Contributing Sponsors are Bluegreen Corporation, Marriott Vacation Club International, ARDA-ROC, and the Hyatt Residential Group.
Terry Jones is scheduled as the keynote speaker. Jones has led both large corporations and small startup companies, is the founder and former CEO of Travelocity, and the Chairman of Kayak.com. As a CEO, a board member, and a consultant, his innovative leadership style has helped reshape the travel industry. He offers concise and actionable insights into how leadership is changing in this new technology-driven world.
For the tenth consecutive year Holiday Systems International (HSI) is the proud sponsor of the ARDA Convention Awards Ceremony and Entertainment Gala, a formal event which will take place on March 30.
"Sponsoring the ARDA Awards Gala is a wonderful opportunity for Holiday Systems International to recognize the accomplishments of the industry's top performers. ARDA has a positive impact on the growth and development of the vacation ownership and resort development industries, and HSI is pleased to continue our support of ARDA's Awards Gala," HSI's Founder, President and CEO Craig Morganson said.
For final inspiration, the closing speaker will be at the Breakfast of Champions on the morning of the Convention's last day, March 31. Lieutenant Colonel Greg Gadson is a decorated Army Commander who lost both of his legs to a roadside bomb in Baghdad. Commander Gadson understands that hard work and determination are key factors in overcoming life-altering setbacks. He will share with the convention's attendees the crucial role teamwork and camaraderie play when facing life's obstacles.
Categorized in: American Resort Development Association, ARDA, ARDA Convention, II, RCI, timeshare convention, Wyndham Vacation Ownership